City of Mobile Police Department to host Youth Violence Prevention (YVP) Week
Jul 20th, 2022
The movement of awakening the "unity" in community continues as the MPD Office of Strategic Initiatives hosts Youth Violence Prevention (YVP) Week. The event takes place July 24-30, and there is something happening each day for the entire family to participate in, especially teenagers.
"In combating the youth violence in our city, the pursuit of peace, love, redemption and all things good are at the front of our efforts," said Youth Violence Prevention Coordinator Joshua Jones. "My hope is YVP Week serves as the culmination of what was set in motion earlier this summer with our Community Days."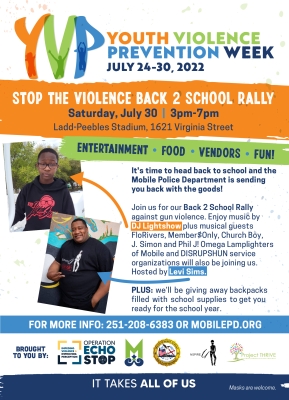 Kicking off the week on Sunday, July 24, there will be a Prayer Service in Mardi Gras Park beginning at 6 p.m. Leaders of faith will come together to pray for our youth and speak peace and unity into the communities. The keynote speaker will be DeQuel Robinson, a former pro wheelchair basketball athlete who has lived with an ambulatory disability since 2008. He will offer a message to young people about thriving, regardless of personal challenges, and tapping into their true purpose.

There will also be a "Celebrity Fun Day" Wednesday, July 27 at Herndon-Sage Park from 5:30 p.m. to 7:30 p.m. Young people are invited to compete in basketball, kickball and sack races with city influencers. These friendly competitions will help the youth to get to know local people who are invested in their future. Mobile City Council President C.J. Small, Attorney Moshee Donald, MCPSS Superintendent Chresal Threadgill and 93 BLX DJ Blayze are among more than a dozen influencers participating.
To close out YVP Week, a "Stop the Violence Back 2 School Rally" will be held at Ladd-Peebles Stadium on Saturday, July 30. DJ Lightshow, who is only 14 years old, will be on the sounds. Musical guests will also include FloRivers, Members$Only, Church Boy, J.
Simon and Phil J. Partnering agencies will be set up to provide resources such as educational and employment opportunities, health care and mental health services. Additionally, there will be a giveaway of backpacks filled with school supplies.
Throughout the week, YVP Week Community Engagement Days will be held from 10 a.m. to 2 p.m. at parks around the City of Mobile. These events will happen at Hillsdale Park on Monday, Trinity Gardens Park on Tuesday, Taylor Park on Thursday and Harmon Park on Friday. Jones will be joined by other Mobile police officers to lead programs about conflict resolution and team building.
"If we can further drive the efforts to support family environments, which in turn promote healthy development of our young people, we can reshape what community looks like in Mobile," said Jones. "And by doing so, we can reclaim the essence of what true community is."
Click here to view/dowload flyers.