Our Mission
Our Mission: To treat victims with fairness, dignity and respect while providing them with information, access and support in partnership with law enforcement and the justice system.
As a victim, you may experience:
Shock
Disbelief
Guilt
Shame or self-blame
Anger
Difficulty concentrating
Anxiety or depression
Difficulty sleeping
Post-traumatic stress
We can provide the following services:
Crisis intervention
Trauma-infomed care
Safety planning
Criminal justice support
Referrals to community services
Access to information and application assistance
You may qualify for Alabama Crime Victims Compensation if:
The crime was reported to law enforcement within 72 hours.
An application for assistance is received within one year of the date of the crime.
The victim cooperates with the investigation.
The victim did not contribute to the crime.
KNOW YOUR RIGHTS
Click here to view the complete list of all your rights as a victim.
WHO CAN APPLY FOR ALABAMA CRIME VICTIMS COMPENSATION?
Any person who is an innocent victim of criminally injurious conduct and who has sustained personal injuries as a result; or the next-of-kin of a victim who died as a result of criminally injurious conduct. For more details, click here.
Alabama Crime Victims Compensation Commission Application
If you are in need assistance, reach out to one of our victim advocates. You may also email victimadvocate@cityofmobile.org.
MPD Victim advocates
Brandie Battiste, M.Ed., ALC | 251-208-6061
Stacey Dallas Woodyard, B.A. | 251-208-6390
---
Join our cause
National Crime Victims Rights Week
The Holiday Giving Tree and Lighting Ceremony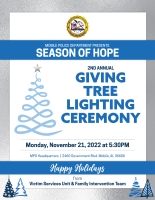 ---
The Victim Services Unit is a program of the Mobile Police Department Office of Strategic Initiatives.