'Community Days' Kickoff: Youth Violence Prevention Summer Events
Jun 3rd, 2022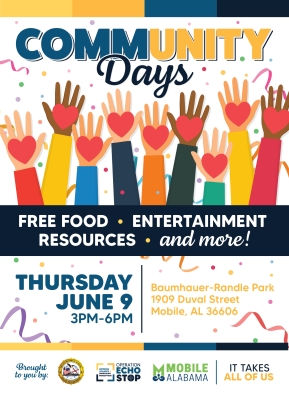 It's the kickoff for "Community Days," the City of Mobile Police Department youth violence prevention summer events. Area residents are invited to come out to Baumhauer-Randle Park, 1909 Duval Street, on Thursday, June 9, 2022 from 3 to 6 p.m. There will be youth mentoring and fun activities for the kids as well as free food.
Community Days are events also designed to strengthen the family structure. More than 20 agencies will set up to serve those who need employment, educational opportunities, health care, dental care, substance abuse treatment and mental health services.
Some of the participating agencies are Opportunities 4 Entertainers & Performing Arts, Bishop State Community College, Coastal Alabama Community College, Dream Hunters Inc., Accel Day and Evening Academy, Mobile County Public School System, Center for Fair Housing, Atlas Industrial Outsourcing, City of Mobile Public Safety Recruiting, Mobile Career Center, Southwest Alabama Partnership for Training and Education, Goodwill of the Gulf Coast, Drug Education Council, University Hospital, Mobile County Health Department, Gulf Coast Mental Health Coalition, Lifelines Counseling Services, The United Way of Southwest Alabama, AltaPointe Health, and Big Brothers Big Sisters of South Alabama.
Community Days are a part of Operation Echo Stop, which was launched by the City of Mobile earlier this year as an effort to reduce gun violence within the community.