ABOUT OPERATION ECHO STOP
On February 1, 2022, the City of Mobile launched Operation Echo Stop in an effort to reduce gun violence within our community. Operation Echo Stop was named in concert with the effort to reduce the sound of gunfire, heard too often throughout our city and in other communities nationwide. The City of Mobile has initiated a unique and diverse strategy to combat gun violence, unlike any others across the country, namely consisting of four key components or "corners" of the operation.
Prevention

Deterrence

Compliance

Detection
All four components of the operation are required, and without any one of them Operation Echo Stop will not succeed. Inversely, in and of themselves, no one corner of this operation can reduce gun violence in a meaningful way. The approach requires cooperation of law enforcement, the community and civic leaders across the city. It is not simply an operation that law enforcement launched, it is an undertaking where success will be driven by effective participation.
Our community can interact and become involved in making Mobile the safest city with respect for everyone. The overall success of this operation will be assessed over the course of the next 3-5 years with an outcome-driven model designed around a reduction of gun violence and an improved perception of safety within the City of Mobile. That said, Operation Echo Stop is designed around the urgency of impeding violence and improving perception.
---
ECHO STOP LIVE PODCAST
Tune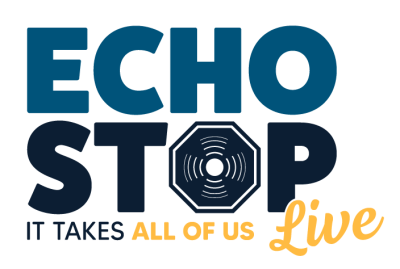 in to the Echo Stop Live Podcast every Friday morning at 8:30.
Click a link below to watch LIVE on YouTube or Facebook.
Get the latest updates on the efforts of Operation Echo Stop and learn how you can get involved. Hosts are Kevin Levy and Curtis Graves with guest appearances from members of the community. The first podcast episode aired October 7, 2022.
AUGUST 2023 PODCASTS
Send in your questions and comments to echostoplive@gmail.com.
FRIDAY, August 4, 2023 - EPISODE 44 - ECHO STOP LIVE TOUR 2023
Topic - Saving Gang Members. Meet Vick, who brings hope to the streets of Houston. Driving the city's youth violence prevention efforts, he works with at-risk youth to help them make the right choices and achieve their dreams.
FRIDAY, JUNE 23, 2023 - EPISODE 38
Topic - Heroes of Faith. Self-taught Guitarist Jeremiah Moody uplifts through song. Faith-based music is his passion. He believes passion is placed within the heart for a reason. The purpose is to share it with others.
FRIDAY, JUNE 30, 2023 - EPISODE 39
Topic - Seasons of Life. Hosts Kevin and Curtis talk about the seasons of life and how each season serves to make us better. There is also a special announcement about what's on the horizon.
PAST PODCAST TOPICS
Friday, Oct. 7, 2022 - EPISODE 1
Topic - Four Corners in Every Direction

. The goal of Operation Echo Stop is to STOP the TRIGGER from ever getting pulled. Hosts talk strategy on employing the technology and the people to reduce gun violence.
Friday, Oct. 14, 2022 - EPISODE 2
Topic - Next Generation Chaos to Calm

. This day and age live a generation of youth that is a wonder of peculiarity – from their influences and by the things that motivate them. Special guest City of Mobile Youth Violence Prevention Coordinator Joshua Jones talks about his journey to reach them where they are.
Friday, Oct. 21, 2022 - EPISODE 3
Topic - Imagine a Safer City

. Special guest City of Mobile Public Safety Director Lawrence Battiste lays out the reality of the matter on what every community member can do in the charge for a safer community.
Friday, Oct. 28, 2022 - EPISODE 4
Topic - Mind on Mental Health Triumphs

. Pushing the city forward to understanding trauma in the form of it is not what's wrong with you but it is what's happened to you. Special guest Dr. Cindy Gipson, Associate Director of AltaPointe Crisis Services, explains the approach community members should take when encountering someone dealing with a mental health crisis.
FRIDAY, NOV. 4, 2022 - EPISODE 5
Topic – When Enough is Enough

. The end of the month ShotsSpotter data is announced. Hosts explain the numbers but talk about the emotional toll when violence hits close to home and how it affects loved ones. The police department has an array of crime fighting capabilities, but community involvement remains a key solution.
FRIDAY, NOV. 11, 2022 - EPISODE 6
Topic – Restoring Hope: A Safer Community

. Violence seems like it will never stop but don't give up hope. More than ever, we need each other for encouragement to become a strong community that fights crime together. Special guest Dr. Brian Jenkins of Coastal Church gives a message to uplift the city.
FRIDAY, NOV. 18, 2022 - EPISODE 7
Topic – Social Media: Branding Yourself with Positive Value

. Social media is a giant influencer with the power to destroy and hurt or inspire and brighten someone's day. Hosts talk about the dangers of social media for our young people and how one post can affect their entire future. However, there is long-term value in creating a presence on social media with something positive.
FRIDAY, NOV. 25, 2022 - EPISODE 8
Topic – In Service, Of Service: A Duty to Serve

. Serving others brings forth bountiful blessings. Although we are thankful for our city and what we as Mobilians have accomplished together, hosts reveal how the duty to serve with compassionate heart for others can be extended.
FRIDAY, DEC. 2, 2022 - EPISODE 9
FRIDAY, DEC. 9, 2022 - EPISODE 10
FRIDAY, DEC. 16, 2022 - EPISODE 11
Topic – Data for Good. Dr. Gerard Tate, the Community Impact & Engagement Director for ShotSpotter, explains why it is necessary to use data to enhance Operation Echo Stop and how data helps drive community engagement. Hosts also discuss the adverse effects of the trauma from gunfire, especially for children.
FRIDAY, DEC. 23, 2022 - EPISODE 12
Topic – Revolutionizing Thought with Faith-Based Leadership. Who is better to get in the fight against gun violence than our area spiritual leaders? Several people of faith come together to talk their work to stop gun violence and heal their communities affected by it. They offer prayer for a safe Christmas holiday.
FRIDAY, DEC. 30, 2022 - EPISODE 13
Friday, jan. 6, 2023 - EPISODE 14
Topic -

State of the Podcast.

The great improvements from citizen involvement is shared. And, because it shook the start of the new year, hosts talk about the New Year's Eve shooting.
FRIDAY, JAN. 13, 2023 - EPISODE 15
Topic -

A City Supported.

Hosts talk with Brandon Sanders, the executive director and lead pastor at Wings of Life, about the mission of the program and the latest changes to help people recover from addiction and other destructive lifestyles.
FRIDAY, JAN. 20, 2023 - EPISODE 16
Topic -

Voices of the Community Series. Every voice and zip code matters. That should never be forgotten. Hosts introduce a new series that will bring guests from the community including the school and healthcare system.
FRIDAY, JAN. 27, 2023 - EPISODE 17
Topic -

Voices of the Community. Our Schools. Who better knows school safety than Andy Gatewood? He is Mobile County Public School System's director of safety and security. Each day, Gatewood and his team ensures that all students can learn in a safe environment.
Friday, FEB. 3, 2023 - EPISODE 18
Topic - Voices of the Community Series. The Police Captain. Joined by Police Captain Lee Laffitte, First Precinct commander, the hosts express truths regarding the value of human life and acknowledge the disapproval of the actions of the Memphis police officers. Captain Laffitte has served in law enforcement for 20 years and works daily to strengthen police-community relations.
FRIDAY, FEB. 10, 2023 - EPISODE 19
FRIDAY, FEB. 17, 2023 - EPISODE 20
FRIDAY, FEB. 24, 2023 - EPISODE 21
Topic -

Voices of the Community Series. The Coach. Former Boston Red Sox and University of Alabama pitcher Phil Quigley talks sports with the hosts. It's not all about winning, right? Coaches have the ability to pour into the lives of our youth to help them make the right choices in life. That opportunity should not be taken for granted.
Friday, march 3, 2023 - EPISODE 22
Topic - Voices of the Community. The Physician. Violence is attacking our youth. USA University Hospital medical professionals call it a disease that needs to be treated. Dr. Ashley Williams joins the hosts to talk about how the hospital is preventing violence through a program called Project Inspire.
FRIDAY, MARCH 10, 2023 - EPISODE 23
Topic - Voices of the Community. Community Action Groups. Muriel Hightower, a resident of Dauphin Island Parkway instrumental in re-establishing the Riverside/DIP Community Action Group, sits down with the hosts to discuss how residents can help the police in creating a safe community.
FRIDAY, MARCH 17, 2023 - EPISODE 24
Topic - Voices of the Community. The Business Owner.

The level of engagement a business owner has with law enforcement can affect community change. Brad Cooper is a fine example of a business owner who decided to step up and do something to help support police. Serving as president of the Mobile Citizens Police Academy Alumni Association, he shares with the hosts what that type of support means.
FRIDAY, MARCH 24, 2023 - EPISODE 25
Topic - Voices of the Community. The Teacher. Dr. Stacey Thomas of Ben C. Rain High School is an extraordinary teacher who goes above and beyond to push her students to their full potential. Understanding the peer pressures her high schoolers face, she uses real-world perspectives to guide them in making good choices.
FRIDAY, MARCH 31, 2023 - EPISODE 26
Topic - Voices of the Community. D.O.P.E Students. A group of Ben C. Rain High School students have accepted the challenge of doing opposite other people's expectations. These students give real talk on why they decided to be amazingly dope in their own right.
FRIDAY, APRIL 7, 2023 - EPISODE 27
Topic - State of Emergency! More Men Needed to Transform the Community. Discover what is ManChurch. When more men rise to the call with faith and fight against that which hurts society there can be greater transformation of community. Hosts invite Brandon Sanders, executive director of Wings of Life, back on the podcast to talk about how every man has a mission.
FRIDAY, APRIL 14, 2023 - EPISODE 28
Topic - Creating the Narrative for Community. Fox 10 News Morning Anchor Eric Reynolds is a name everyone knows. What many may not konw is that he is passionate about community. Hosts interview Eric and talk about the law enforcement and news media relationship.
FRIDAY, APRIL 21, 2023 - EPISODE 29
Topic - 4 Pillars of Society. The four corners of Operation Echo Stop are prevention, deterrence, compliance and detection. Hosts present the foundation of those four corners, which are faith, family, education and government.
FRIDAY, APRIL 28, 2023 - EPISODE 30
Topic - Innovation in Law Enforcement. The City of Mobile has one of the largest metropolitan police agencies in the Gulf Coast Region. Learn how the agency is taking innovation to the next level and transforming law enforcement with new technologies.
FRIDAY, MAY 5, 2023 - EPISODE 31
Topic - Excellence in Diversity. Hosts bring to light how each citizen is beautifully designed to contribute to society for a greater purpose. An appreciation for culture is essential.
FRIDAY, MAY 12, 2023 - EPISODE 32
FRIDAY, MAY 19, 2023 - EPISODE 33
Topic - Summer Community Days. Partnering Agencies of Project THRIVE are bringing strength for the city --resources necessary for living well --to a park near you. G

uest Joshua Jones, City of Mobile Youth Violence Prevention Coordinator, explains why Community Days are important for families and what they can expect at each of the four planned events.
FRIDAY, MAY 26, 2023 - EPISODE 34
Topic - Be a Change Agent. The school year has come to an end. Serving as a recap, Denise Riemer, lead district social worker for Mobile County Public Schools, shares how her team worked to make home life to school life better for students.
FRIDAY, JUNE 2, 2023 - EPISODE 35
Topic - Honoring Armed Forces Heroes. In this after Memorial Day podcast special, guest John Murphy shares a personal story about his father who served during WWII. With both a military and law enforcement background, John passes down the belief that in serving one must be strong to protect yet approachable.
FRIDAY, JUNE 9, 2023 - EPISODE 36
Topic - Honoring Community Heroes. Hosts get a chance to have a conversation with Mobile City Council Vice President Gina Gregory about quality of life issues and the need for everyday community heroes contributing to public safety. Admired for her courage and achievements, she gives advice on facing life's challenges.
FRIDAY, JUNE 16, 2023 - EPISODE 37
Topic - Heroes of Innovation. Becoming a safer, more business and family-friendly city requires innovation. Todd Greer, Innovation Portal Executive Director, works with entrepreneurs and help launch their ideas. He explains the entrepreneurial ecosystem.
FRIDAY, JULY 7, 2023 - EPISODE 40
Topic - Concerns & Realities. How people are treated has significant impact on public safety. Hosts Kevin and Curtis explain why it matters.