Boater Safety Course: Ensure Your Safety and Legal Compliance on the Water
Apr 5th, 2023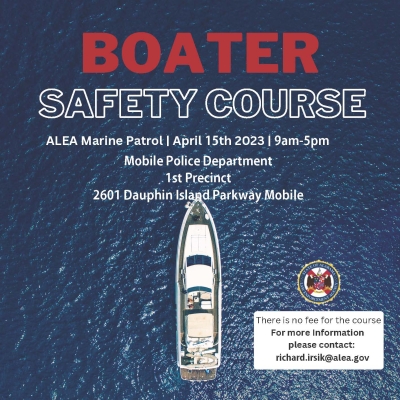 Attention all members of the community! If you're planning on operating a boat or just looking to enhance your boating knowledge and skills, don't miss out on the upcoming boater safety course presented by ALEA Marine Patrol.
This course will take place on April 15, 2023, from 9:00 a.m. -5:00 p.m. at Precinct One, 2601 Dauphin Island Parkway. Not only is it an excellent opportunity to learn essential safety techniques and laws necessary for boating safely and responsibly, but it's also a requirement for obtaining a boater license.
Don't wait until it's too late - sign up now and ensure you're legally able to enjoy your time on the water. For more information and to register, please get in touch with richard.irsik@alea.gov.
Remember, safety should always come first when it comes to boating. So take advantage of this opportunity to learn from the experts and become a more responsible and skilled boater. We hope to see you there!