Whitney Adams named Civilian Employee of the Month
Jan 18th, 2023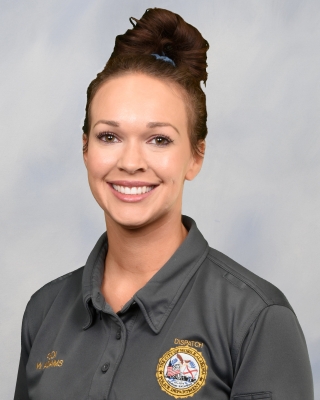 Whitney Adams receives the Civilian Employee of the Month Award for December 2022. Adams serves as a public safety dispatcher in the Communications Unit. She is recognized for assisting with a cross-jurisdictional pursuit.
On December 30, 2022 at 10:18 p.m., an officer advised the operator that he saw burglary suspects occupying a white Ford Escape with a switched tag in the area of McVay Drive and Navco Road heading westbound on McVay Drive with a 2-minute lapse.
Police units moved to the area to see if they could locate the vehicle. At 10:22 p.m., another officer informed that the suspect had taken off after striking his patrol vehicle twice at a gas station parking lot causing minor damage. Adams immediately held traffic.
The suspects went eastbound on Government Boulevard, which is where the pursuit began. Adams quickly informed her fellow dispatchers that she had a pursuit and they immediately jumped into action to assist her.
All channels were patched. Adams gave a description of the suspects' vehicle, advised what they were being pursued for, direction of travel and speeds. As the pursuit approached I-65, police units requested that Prichard Police Department be notified.
While police units traveled across jurisdictions, Adams continued providing updates on locations, speeds, and traffic conditions. As the pursuit entered into other jurisdictions, the assisting dispatchers made notifications to each of those law enforcement agencies.
The suspects eventually wrecked out on Highway 43 and Ipso Road in Mount Vernon's jurisdiction. The suspects were taken into custody.
The Mobile Police Department commends Adams for her quick thinking, proficiency in dispatching and calm demeanor. Officers were able to apprehend the suspects without major injury to themselves, the suspects, or citizens. Adams played a significant role in ensuring everyone's safety.