Registration open for the Boots & Badges Kids Camp
Jun 7th, 2023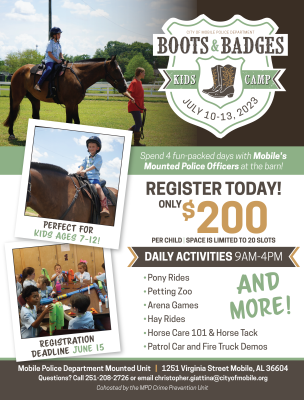 The Boots & Badges Kids Camp is perfect for kids who want to learn more about the role of police officers on horseback. Four fun-packed days will be spent at the Mobile Police Department Mounted Unit's barn. The camp is July 10-13, 2023 from 9 a.m. to 4 p.m. Kids ages 7 to 12 can participate.
This camp is the perfect mix of both fun and education. Daily activities include pony rides, petting zoo, arena games, hayrides, tack, obstacle course adventure and more.
The deadline to register is June 30, 2023. The cost is $200. Space is limited to 20 slots. Click here to register.
For more information, call 251-208-2726 or email christopher.giattina@cityofmobile.org.