POSSIBLE KIDNAPPING
Apr 10th, 2022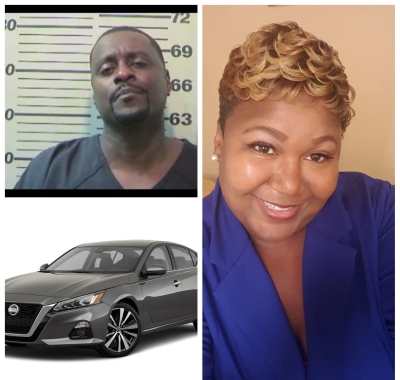 The Mobile Police Department reports detectives are investigating a possible kidnapping. We need the public's assistance in locating Marlene French, who was last seen with Dominque Thornton.
On Sunday, April 10, 2022, at approximately 9:00 a.m., officers responded to the 3300 block of Loblolly Drive in reference to a possible kidnapping. The preliminary investigation revealed that the female victim Marlene A. French, age 50, was physically assaulted by her boyfriend, Dominque Thornton, and forced inside of a grey 2020 Nissan Altima (like the picture attached). She was last seen wearing a white t-shirt and blue jeans.
If anyone has information about the case, please contact the Mobile Police Department at 251-208-7211, or leave an anonymous tip at mobilepd.org/crimetip.
***Update***
The subject is in custody. The victim was found safe and no one was injured.
**Update**
The investigation determined that the victim, Marlene French, was not kidnapped. However, Ms. French was aware that the subject Dominque Thornton had several outstanding felony warrants and hindered the prosecution of his arrest by aiding him. As a result, Ms. Marlene French was arrested and charged with Hindering Prosecution 1st degree. Additionally, Dominique Thornton was arrested on several active felony warrants.
###