Operation Grab and Go
Jan 14th, 2022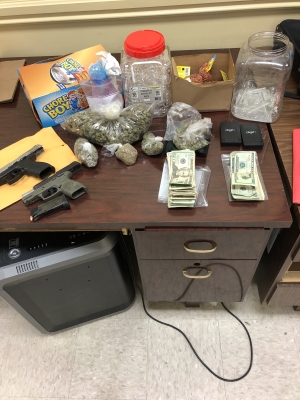 The Mobile Police Department Narcotics and Vice Unit conducted a three-month undercover operation, called Operation Grab and Go, in response to numerous complaints of drug sales, loitering and violence in the Azalea Road area. The target location was the Discount Zone located at 507 Azalea Road. Five individuals were identified as drug dealers at the location.
On Thursday, January 13, 2022, the Narcotics and Vice Unit, along with the Street Enforcement Team and the K-9 Unit, executed a search warrant at the location. During the search warrant, a temporary restraining order (TRO) was executed to close the store due to the history and continuous nefarious acts at the location. The Asset Forfeiture Detail served all owners the proper paperwork for the TRO.
Notable seizures include marijuana, analog marijuana, crack cocaine, codeine syrup, and $1,206 in U.S. currency.
Operation Grab and Go resulted in seven arrests. Of that number, two of the individuals arrested were targets. Officers also recovered two guns.
Here is a list of those arrested and their charges.
Arrested Targets:
Reginald Jenkins, 30
Unlawful Distribution of Controlled Substance
Dontayvious Woods, 28
Unlawful Distribution of Controlled Substance

Unlawful Distribution of Controlled Substance

Unlawful Distribution of Controlled Substance
Ancillary Arrested:
Rashaad Young , 28
Expired License (Warrant)

Run Red Light (Warrant)

Run Stop Sign (Warrant)
Jeffery Hunter, 24
Possession of Marijuana 1st Degree

Possession of Drug Paraphernalia
Larry Williams, 20
Possession of Marijuana 2nd Degree

No Pistol Permit
Henry Mims, 37
Possession of Marijuana 2nd Degree
Tesean Raymond James, 27
Possession of Controlled Substance

Possession of Drug Paraphernalia

Domestic Violence (Strangulation or Suffocation) (Warrant)

Domestic Violence (Strangulation or Suffocation) (Warrant)

Escape 3rd Degree