Hometown hero to be honored at the 23rd Annual Law Enforcement Prayer Luncheon
Jan 12th, 2022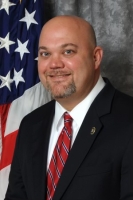 The Chaplain Offices of the Mobile Police Department and Mobile County Sheriff's Office are set to host the 23rd Annual Law Enforcement Prayer Luncheon. A hometown hero will be honored at the event. It will take place at Cottage Hill Baptist Church Fellowship Hall on Thursday, January 13, 2022 and begins at 11:30 a.m.
This year's hometown hero is Bryan Myers, who has 29 years of service with the FBI and currently serves as a supervisory administrative specialist. Myers responded to the 2019 shooting at Naval Air Station Pensacola and the terrorist attacks on 9/11, working in the role of evidence technician.
The luncheon is well-attended by city, county, state and federal area law enforcement agencies. The keynote speaker is Dr. Alan Floyd, pastor of Cottage Hill Baptist Church. City of Mobile Chief of Staff James Barber and Mobile County District Attorney Ashley Rich will provide remarks.
Cottage Hill Baptist Church is located at 4255 Cottage Hill Road.