MPD Celebrates National Coffee with a Cop Day
Sep 29th, 2022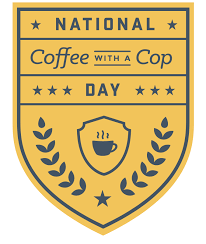 National Coffee with a Cop Day is October 5, 2022. Coffee with a Cop brings police officers and the community members they serve together – over coffee – to discuss issues and learn more about each other. No speeches. No agenda. Just casual conversations.
Community members are invited to come out and meet their Mobile police officers from 9 a.m. to 1 p.m. The event takes place at Bienville Square, 150 Dauphin Street.
Supporting organizations such as the Child Advocacy Center, Penelope House, Keep Mobile Beautiful, Veterans Recovery Resources, and the City of Mobile Animal Shelter will be on site to provide information about their services to the community. Fresh coffee, lemonade and iced tea plus complimentary Munchkin Donut Holes provided by Dunkin' Donuts will be served.
Coffee with a Cop is sponsored by the Mobile Police Department Crime Prevention Unit. For more information, call 251-208-1924.