Local teens 'Rock the Runway' for youth violence prevention
Nov 1st, 2023
Mobile's top teen models will "Rock the Runway" for youth violence prevention this Saturday at Dillard's Shoppes at Bel Air. This model showcase for teenagers is presented by the City of Mobile's Youth Violence Prevention (YVP) and Breakthrough Teens programs and created as a Dillard's fashion experience. The theme is "Rockin' Style and Love for Life."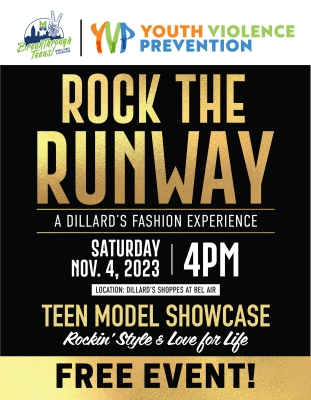 The event will take place on Nov. 4 at 4 p.m. at the mall entrance to Dillard's. Strutting in style down the runway will be 20 young women selected from local high schools across Mobile. They are committed to being that spark of light for the YVP movement, which is about empowering local teenagers to take a stand against youth violence in our community.
The event will also give participants a platform to express their thoughts and ideas related to the prevention of all forms of violence, including suicide. These young leaders committed to modeling good behavior with a presence that inspires and encourages others to do the same.
"We believe in the power of our youth to inspire change and promote a future filled with love and respect for life," City of Mobile Youth Violence Prevention Coordinator Joshua Jones said. "My hope is that we will walk away from this experience encouraged and further committed to uplifting and supporting one another."
All the participating models' outfits and make-up are being provided by Dillard's. Each participant has also been assigned a fashion coach to help them prepare for the big event. Details about what each model is wearing will be announced during the showcase.
"At Dillard's, we are always looking for ways to help and support community programs," Dillard's Store Manager Justin Dubyak said.
Dubyak said he sees youth violence prevention as a great program aimed to thwart youth violence by giving Mobile's at-risk youth an outlet to develop skills and participate in enriching activities. The program also drives home the message that violence does not solve any problems.
"If this program can help prevent one violent act that may negatively affect multiple young lives forever, then this program is a success," Dubyak said.
"Rock the Runway" is open to all fashionistas and supporters of youth violence prevention in Mobile. There will also be a special Dillard's promotion for all those in attendance.
"We are rolling out the red carpet," Dubyak added. "Please come out to support this wonderful program and enjoy the show."