The role of the Youth Violence Prevention Coordinator is to lead and coordinate city-wide efforts to prevent and reduce youth violence. This includes developing and implementing strategies and programs, collaborating with community partners and stakeholders, and engaging youth and families.
The mission is to create a safe and nurturing environment for the youth of the City of Mobile by promoting violence prevention strategies and empowering our community through education, advocacy, and engagement. We strive to provide resources and support to our youth and families while working collaboratively with local organizations to address the root causes of violence and build a sustainable future for generations to come. The goal is to reduce youth violence and promote positive outcomes for all youth in Mobile. IT TAKES ALL OF US!
Joshua Jones, Youth Violence Prevention Coordinator

To make a guest speaker request, click here.
---

One week can change lives. That's what we believe YVP Week will do – give our youth a different outlook on being and belonging. There's a movement happening throughout the city and it's about making every young person a YVP champion, which means courageous and influential in pushing for a community free of gun violence.
---
YVP Day of Prayer & Worship Music Fest with casey j
Sunday, July 23, 2023 at 6pm
Mardi Gras Park, 104 S. Royal Street
Join us as we come together in prayer. This event combines faith, spirituality, and music to create an uplifting atmosphere. The event is free with special guest Casey J!
Casey J is a Stellar Award-winning and Dove Award-nominated singer, songwriter, and producer from Atlanta, Georgia. From the #1 Billboard Chart topping single, "Fill Me Up" to other hits like, "I'm Yours", "Let it Be Known", and "If God", Casey leans into the power of God's Word to heal, to restore, to deliver, and to set free.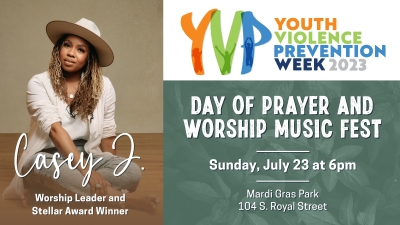 ---
YVP Hoop It Up Basketball Tournament
Wednesday, July 19, 2023
1-5PM at Morgan Park, 6000 N. Claiborne Street
Who will be the YVP Champions?
DEADLINE EXTENDED to July 17th. This is a basketball tournament for ages 13-24. Game is 3 on 3, and 20 teams!
Download Waiver & Release of Liability Form. Email completed forms to charlette.solis@cityofmobile.org. This form must be completed by all participating players.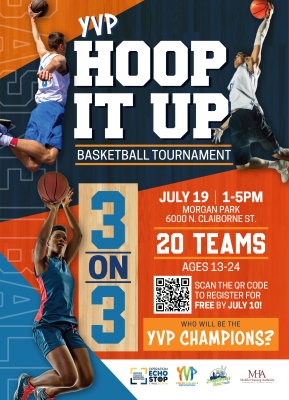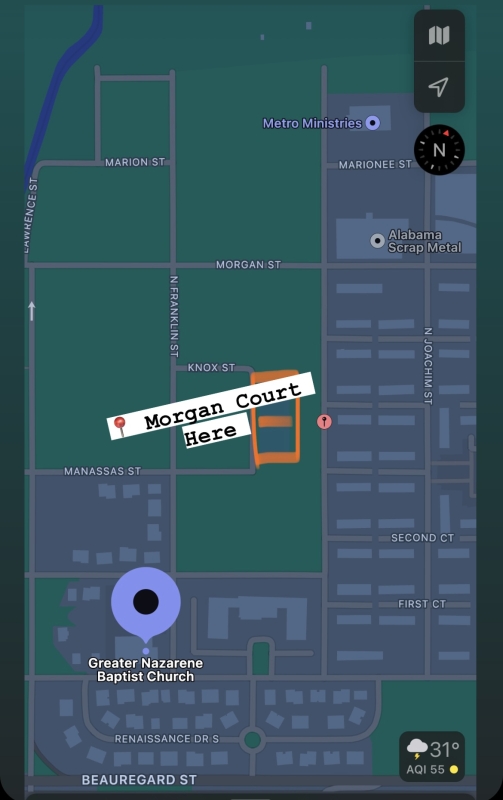 ---
---
COMMUNITY DAYS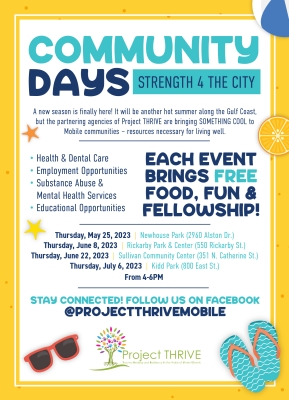 As a part of Operation Echo Stop, the Youth Violence Prevention "Community Days" are events designed to strengthen the family structure. They take place in areas most affected by violent crime in the City of Mobile. The overall approach is to take available services from the four areas listed below to the families that need them most.
Employment Opportunities
Health & Dental Care
Substance Abuse & Mental Health Services
Educational Opportunities
Through this approach, we can identify where families are struggling the most and meet that need in order to further facilitate intervention and prevention strategies that are specifically designed to address the risk factors associated with pre-delinquent/violent risk behavior. Most importantly, we aim to build relationships and connect families to the services available.
---
VIDEO LIBRARY
It Takes All of Us Event 2022
After the Event: It Takes All of Us 2022
Community Days Event at Baumhauer-Randle Park 2022
Youth Violence Prevention in Mobile through Community Days