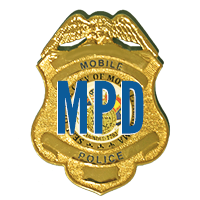 Sean Tuder
July 2017 • 1st Precinct
The Mobile Police Department has named Sean Tuder Officer of the Month for July 2017. With prior experience as a K-9 officer, Tuder joined the department in March 2016 and works the high-crime area in Precinct 1. Tuder is commended for his numerous drug arrests, with four cases being sent for federal prosecution, and recovering six firearms.
On the morning of July 4, 2017, Tuder was patrolling the area of Dauphin Island Parkway and Zula Lane when he spotted a silver Honda Accord parked at a vacant house. He called for backup and detained suspect 39-year-old Roderick Campbell who had active warrants for probation violation. While conducting an inventory on the vehicle, Tuder discovered 18 grams of crack cocaine, .7 grams of powder cocaine and a small baggie with marijuana. Campbell was charged with possession of controlled substance with intent to distribute and possession of marijuana second degree.
On July 22, 2017 at approximately 1:01 a.m. Tuder conducted a traffic stop at South Washington Avenue and South Carolina Street. While talking to the driver, 27-year-old James Hicks, Tuder saw marijuana on the center console. Hicks was detained and searched. He was found to be in possession of 26 grams of marijuana, seven Xanax and three Hydrocodone pills, and a Sig Sauer 40 caliber handgun. Hicks was arrested for possession of a controlled substance, marijuana second degree, and no pistol permit. Hicks also faces a federal firearm charge.
Tuder located the suspect connected to a carjacking that occurred in Prichard on July 23, 2017. The vehicle description was a silver Nissan with a paper tag. Tuder diligently searched until he located the vehicle heading south on Broad Street. The vehicle refused to stop leading Tuder on a vehicle pursuit. The suspect ran from the vehicle at 800 South Washington Avenue. Tuder pursued him on foot for several blocks and was able to detain the suspect, identified as 22-year-old Frederick Carroll, without incident. Carroll was found to be in possession of marijuana and Ecstasy. The vehicle was returned to the victim.
Tuder also received recognition for his work on a robbery case. A victim reported that two men struck him several times and took his bike in the area of Selma Street and Broad Street around midnight July 14, 2017. Tuder searched the area and found two men fitting the description given by the victim walking south of Broad Street toward Circle K at 501 Broad Street. When they came out of the store, Tuder detained them and the victim positively identified them as the men who robbed him. One of the suspects, 24-year-old Henry Knight, had just been released from prison for several robberies and burglaries and was on probation. His probation was revoked and he is serving the remainder of his sentence. The other suspect, Anthony Gardner, 19, was charged with robbery second degree.
In total, Tuder made 13 felony and 55 misdemeanor arrests, and responded to 110 calls and 57 backings. He will be honored at the Officer of Month Luncheon sponsored by the Midtown Optimist Club Wednesday, Aug. 9, 2017 at noon. The luncheon will be held at the Azalea City Golf Course Club, 1000 Gaillard Drive.
---