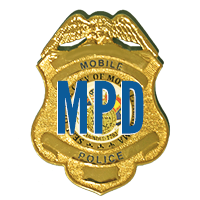 Justin Billa
June 2016 • 3rd Precinct
The Mobile Police Department has named Justin Billa as Officer of the Month for June 2016. Billa works in the Third Precinct and has been a police officer since January this year.
Billa is commended for his investigation into complaints of a man committing robberies in the 200 block of North Ann Street and in the area of Rylands Street and Adams Street. He searched for the suspect until spotting him off St Stephens Road. The suspect fled on foot, but after a short pursuit Billa apprehended him. The suspect was arrested and charged with first-degree robbery.
Additionally, Billa made two felony and 17 misdemeanor arrests for the month. He responded to 135 calls for service and 11 backups, and wrote 17 citations.
According to his commanding officer, Billa has great attention to detail skills and shows commitment daily to providing a professional level of law enforcement service to the city of Mobile.
Billa will be honored at the Officer of the Month luncheon today at noon at the Azalea Golf Course Club, located at 1000 Gaillard Drive. The luncheon is sponsored by the Midtown Optimist Club.
---