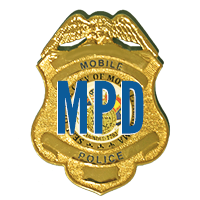 Charles Dewberry
December 2017 • 2nd Precinct
The Mobile Police Department recognizes Charles Dewberry as Officer of the Month for December 2017. Dewberry has been a police officer for four years in patrol for Precinct 2. He strives to give the citizens of Mobile the very best service possible, especially when it comes to solving burglary cases.
On December 7, 2017, Dewberry assisted detectives with locating David Hale, the suspect wanted for questioning in numerous vehicle and residential burglaries. Using social media, he discovered that Hale was employed by Waffle House and was able to find out when he would be at work. When Dewberry arrived at the restaurant, Hale fled to the back of the store and attempted to hide in the attic. Hale was taken into custody and arrested.
On December 26, 2017, in the area of Kooiman Road at Highway 90, there was a report of a robbery and shooting. The victim stated he was robbed by two unknown men and that they shot him. Using the victim's description of the suspects, Dewberry set up surveillance and located the suspects' vehicle and detained them. A search of the vehicle revealed the handgun used in the robbery. One of the men arrested was 22-year-old Ryan Tandy-Ross, who had 11 felony warrants for his arrest, including sexual abuse first degree and 10 warrants for burglary. The two men were arrested on a total of 22 felonies.
Additionally, during the month of December, Dewberry held his second annual raffle drive to help local families with Christmas. He paid for 40 children's entire Christmas. Dewberry, along with officers from Precinct 2, also handed out presents to over 150 local children.
The Mobile Police Department honored Dewberry at the Officer of the Month luncheon held Wednesday, January 10, 2018. The luncheon was sponsored by the Midtown Optimist Club.
---