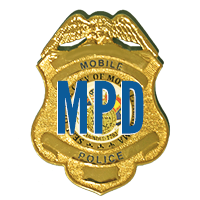 Paul Callegari
August 2020 • Central Precinct
The Mobile Police Department is proud to announce that Paul Callegari is the Officer of the Month for August 2020. Graduating from the Mobile Police Academy in January 2020, Callegari is assigned to downtown Central Precinct as a patrolman.
During the month, he made 15 felony and 59 misdemeanor arrests and issued 150 traffic citations. Along with numerous self-initiated contacts, he answered 15 calls for service and provided backing on 40 additional complaints.
According to his supervisor, Callegari has done a tremendous job in actively locating and arresting many suspects involved in criminal activity and taking into custody individuals illegally possessing firearms, all while still thoroughly patrolling his area to provide service. Here is a glimpse of the work that Callegari exhibits on a daily basis.
On August 22, 2020, Callegari was dispatched to Springdale Boulevard in reference to two people down inside a vehicle. Upon arrival, he found a woman sitting with her legs crossed on the ground, slumped forward and unconscious with shallow, slow snoring respirations. Inside the car, a man was slumped over the center console unconscious with snoring respirations. Snoring respirations indicated that the airway is partially obstructed.
With the help of bystanders, Callegari moved the woman away from the driver door and rolled her on her left side in case she began vomiting. He grabbed the arms of the man, removed him from the vehicle and rolled him on his left side.
While positioning the two and just as Mobile Fire-Rescue was arriving on the scene, multiple shots were fired in the same parking lot. Mobile Fire-Rescue left the scene and Callegari remained with the man and woman.
The woman had stopped breathing. Recognizing this as imminent cardiac arrest, Callegari, being a trained EMT, retrieved his bag valve mask from his medical kit and began giving the woman respirations.
Callegari continued breathing for the woman for approximately five minutes preventing cardiac arrest until the scene was secured for Mobile Fire-Rescue to return. The man and woman were transported to Springhill Medical Center in critical condition. Callegari's quick actions during this medical emergency undoubtedly prevented any further medical complications and possibly death to both.
On August 24, 2020, Callegari was monitoring Mobile Fire-Rescue's dispatch and overheard Engine 3 and Rescue 3 getting dispatched to a pediatric cardiac arrest. Callegari responded and arrived on the scene prior to EMS. He made entry to the residence and observed a boy lying supine on the floor, unconscious and not breathing.
Callegari immediately recognized that the patient was in cardiac arrest and started CPR until medical arrived. He assisted Mobile Fire-Rescue in the ambulance by continuing CPR while one medic started an IV and the other medic hooked the patient up to a cardiac monitor. Callegari escorted Rescue 3 to the emergency room. Upon arrival, the patient had a sustained heart rate on his own.
Later that day, Callegari received an alert for a stolen vehicle that was traveling eastbound on Government Street near Joachim Street. He immediately headed to the area and was able to locate the vehicle. Callegari followed the vehicle until backing units arrived before attempting to conduct a stop.
He then attempted to stop the vehicle. The driver refused to stop, and a vehicle pursuit ensued. The vehicle finally came to a stop after having four flat tires and an empty tank of gas. The suspect was taken into custody and charged with theft of property first degree and eluding.
On August 28, 2020, Callegari was dispatched to Family Dollar in reference to a shoplifting that just occurred. He started searching the vicinity and was able to locate and take the suspect into custody. The stolen items were returned, and the suspect was arrested and charged with theft of property fourth degree, eluding, failure to obey and criminal trespass third degree. Callegari also recognized the suspect as matching the description of the person captured on video stealing from Greer's Grocery Store. The suspect would face charges for that incident as well.
Callegari is commended for exemplifying every characteristic of an exceptional police officer. His proactive nature, attention to detail and professionalism are applauded.
---