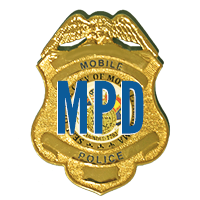 Johnny Duval
October 2017 • 2nd Precinct
The Mobile Police Department has named Johnny Duval Officer of the Month for October 2017. Joining the force in August 2010, Duval works patrol in Precinct 2. He is commended for his dedication, attention to detail, and impeccable efforts to prevent criminal activity within the city.
On Monday, October 9, 2017, Duval conducted a traffic stop on a Hyundai Elantra at Three Notch Road near Gunn Road. The vehicle was occupied by 63-year-old William Seltzer, Jr. and 25-year-old Debra Harvey. During his contact with them, Duval smelled marijuana coming from their vehicle. He found 48 pieces of crack cocaine, 4.7 grams of marijuana, and drug paraphernalia. Both Seltzer and Harvey were arrested. Additional narcotics were found concealed on Harvey by MCSO at Metro Jail during a strip search.
In the course of another traffic stop Monday, October 23, 2017 on Highway 90 near Bellingrath Road, Duval observed the backseat passenger constantly reaching for something. For safety purposes, Duval removed him from the vehicle and saw the barrel of a loaded .80 pistol. After searching the vehicle, multiple units of marijuana, powder cocaine, crack cocaine, crystal methamphetamine and prescription drugs were discovered. The driver and two passengers were arrested.
While patrolling the area of Burma Road, Duval spotted a 2008 gray Scion that was reported stolen two days earlier. When a traffic stop was initiated, three suspects ran from the vehicle and into the neighborhood. Two of the three suspects, 21-year-old Marquise Watts and 21-year-old Larry Roberts, were located and arrested. A loaded .45 caliber Sig Sauer and iPhone found in the vehicle were reported stolen. The suspects were charged with 12 counts of unlawful breaking and entering a motor vehicle, two counts of receiving stolen property first degree, two counts of receiving stolen property third degree, one felony probation violation, two counts of attempting to elude police, two counts of no pistol permit, and two misdemeanor traffic warrants. Federal authorities have also opened an investigation for firearm charges.
Overall for the month of October, Duval made 27 felony and 21 misdemeanor arrests. He was honored at the Officer of the Month Luncheon sponsored by the Midtown Optimist Club. The luncheon was held Wednesday, November 15, 2017 at the Azalea City Golf Course Club.
---