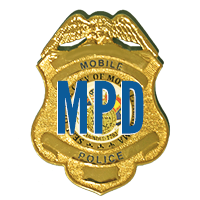 Joseph Raebel
October 2020 • Central Precinct
The Mobile Police Department has named Joseph Raebel the Officer of the Month for October 2020. After completing the Mobile Police Academy in January 2019, Raebel was assigned to Central Precinct to work patrol in downtown Mobile. During the month of October, he answered 31 calls for service and backed other officers on an additional 31 calls where he made seven felony and 49 misdemeanor arrests.
Raebel is recognized for his diligence, quick thinking and commitment to public safety. While patrolling his assigned beat, he relentlessly seeks out criminal activity. His notable cases during the month include the following.
On October 2, 2020, Raebel stopped a suspicious suspect near the Civic Center. While investigating, the suspect was found to be in possession of methamphetamines and was arrested.
On October 8, 2020, while on routine patrol Raebel spotted two suspects trespassing at a federal government building. He found the suspects to be in possession of a sawed-off shotgun as well as the illegal narcotic spice. The suspects were arrested.
The next night, a female suspect began firing shots from a pistol on Conti Street. While responding to the area, Raebel received a broadcast of the description of the suspect. As he approached the scene, he spotted the suspect and was able to safely take her into custody without incident despite her still being armed with the pistol. The suspect was charged with shooting into a vehicle, which was her ex-boyfriend's car. Several ounces of marijuana were recovered from the scene.
While off duty at a local Home Depot store on October 20, 2020, Raebel witnessed a robbery in progress involving a subject armed with a knife. Raebel identified himself as a police officer and sprang into action. He was able to chase down and apprehend the armed suspect despite his attempts to flee on foot and physically resist.
Raebel also seized two illegal firearms from the streets and removed six impaired (DUI) drivers from the roadway. He issued a total of 195 citations during the month.
---