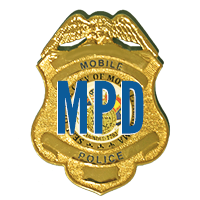 Margo Andrews
April 2017 • 3rd Precinct
The Mobile Police Department honors Margo Andrews with the Officer of the Month Award for April 2017. Andrews serves in the Third Precinct, Field Operations Division, and has been on the force since April 2015.
During the month, Andrews responded to 92 calls for service, 67 backups, and wrote seven citations. She made 22 felony and five misdemeanor arrests. Andrews' excellent performance in one of her calls demonstrates her attention to detail and dedication to police service.
On Wednesday, April 19, 2017 at approximately 7:29 p.m. Andrews was en route to U-Haul Moving & Storage located at 970 Springhill Avenue in reference to a close patrol. Information was disseminated that an unknown person was possibly on the property. When Andrews arrived on the scene, she observed a man under the hood of a vehicle removing the battery.
As Andrews approached the suspect in her patrol car, he ran. Exiting her car, she did a visual scan of the nearby streets but did not see him in the area. Andrews then began searching for the man underneath the vehicles on the property. She located the suspect, identified as 47-year-old Michael Byers, hiding under a truck. Byers is faced with up to 22 counts of unlawful breaking and entering a vehicle, and one count of attempting to elude.
Andrews will be recognized at the Officer of the Month Luncheon, sponsored by the Midtown Optimist Club, Wednesday, May 10, 2017 at noon. The monthly luncheon is held at the Azalea City Golf Course Club, 1000 Gaillard Drive.
---