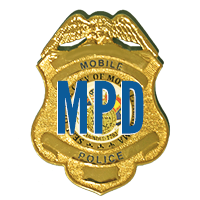 Colton Futral
March 2021 • Precinct 4
The Mobile Police Department has named Colton Futral the Officer of the Month for March 2021. Joining the department in August 2017, Futral is assigned to work patrol in the Fourth Precinct. He is commended for apprehending a suspect wanted for stealing $9,000 from her employer, arresting a sex offender, and identifying a porch pirate.
On March 4, 2021, Futral responded to a local business in reference to a former employee fraudulently editing her pay checks by changing the amount paid to her to a higher pay. She stole approximately $9,000. Futral took the report, located and arrested the employee later that day. She was charged with nine counts of possession of forged instruments third degree, one count of theft of property first degree, possession of marijuana second degree and possession of drug paraphernalia.
On March 26, 2021, Futral responded to another local business in reference to a disorderly situation involving a domestic incident. He addressed the issue and discovered that the suspect intentionally damaged the victim's car as well as stole the victim's personal items. The suspect was apprehended for his crimes and found to have six sex offender registration notification act warrants for his arrest.
After information was released on a suspect wanted for stealing packages off front porches, Futral took time to familiarize himself with the porch pirate's vehicle. On March 28, 2021, while on a call to service, Futral spotted the vehicle and identified the suspect inside as the wanted porch pirate. The suspect was in possession of a recently stolen package when apprehended. Investigators were able to connect him to several other criminal cases.
According to his supervisor, Futral is passionate for the job and proactive in the field. During the month of March, Futral responded to 50 calls for service and provided backing on 23 calls. He made 21 felony and six misdemeanor arrests and issued 10 tickets.
---