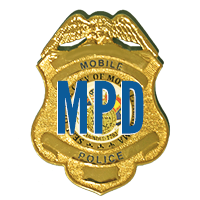 David Reyes
October 2019 • 1st Precinct
The Mobile Police Department is pleased to announce that David Reyes is the Officer of the Month for October 2019. Joining the force in March 2016, Reyes works patrol in the First Precinct. During the month of October, he serviced 106 calls and backed other officers on an additional 48 calls for service. Reyes made 22 felony and 44 misdemeanor arrests, and issued 36 citations.
Described as respectful to his supervisors, co-workers and the members of the community, Reyes is recognized for going above and beyond the necessary duties of a police officer to ensure all citizens feel safer on the road and in their homes and businesses. He has demonstrated dedication of duty and a relentless pursuit of criminals.
On Oct. 8, 2019, Reyes stopped a vehicle on Duval Street, and during the investigation discovered the driver to be in possession of an altered stolen weapon. The passenger was in possession of narcotics. Later that same evening, Reyes stopped another vehicle in the same area resulting in the confiscation of oxycodone and marijuana as well as the seizure of $1,000.
On Oct. 11, 2019, he conducted a traffic stop on Clubhouse Road and subsequently arrested the driver who was found in possession of a stolen firearm and marijuana.
On Oct. 26, 2019, Reyes took a report of a vehicle burglary from a victim. He obtained a surveillance photo from the business where the crime occurred. Later in the shift, he was working a traffic collision and identified the passenger as the suspect in the earlier vehicle burglary. Reyes was able to arrest and charge the suspect for the crime.
The next day, Reyes responded to a robbery alarm on Dauphin Island Parkway. He arrived as the suspects were pulling out of the parking lot. Reyes stopped the suspects' vehicle and apprehended one of the occupants for theft of property.
The Mobile Police Department will honor Reyes at the Officer of the Month Luncheon on Nov. 13, 2019 at noon. The Midtown Optimist Club sponsors the luncheon, which is held at the Azalea City Golf Course Club, 1000 Gaillard Drive.
---