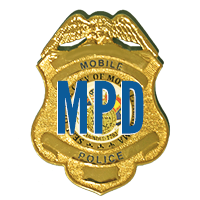 Daniel Marlin
August 2018 • 1st Precinct
The Mobile Police Department has named Daniel Marlin the Officer of the Month for August 2018. Marlin joined the force in March 2016, and works patrol in Precinct 1. During the month, Marlin responded to 100 calls for service and 24 backings. He made 16 felony and 126 misdemeanor arrests, and wrote three traffic citations.
Working his first assignment in August since graduating from the Police Academy, Marlin is commended for removing several criminal suspects and contraband off the streets in Mobile.
On Aug. 4, 2018 at approximately 9:23 a.m., Marlin conducted a traffic stop on a green 1997 GMC Sierra at Duval Street and Murray Hill Court due to the driver failing to use a turn signal. The driver did not have a driver license on him. After conducting a search on the driver, Marlin found 11 Xanax bars and a controlled substance in a small plastic bag in his pocket. The driver's vehicle was impounded, and he was charged with unlawful possession of a controlled substance and transported to Metro Jail.
A few days later on Aug. 8, 2018, Marlin recognized two people walking southbound at George and Palmetto Streets as suspects from a previous call and conducted a stop due to them acting suspicious. The man was found to be in possession of a small silver pipe containing an unknown substance, a needle syringe and a small clear plastic bag containing two small pills. The woman had an active warrant out of the Mobile County Sheriff's Office for possession of drug paraphernalia. Both were arrested.
At the intersection of Halls Mill Road at Holcombe Avenue on Aug. 23, 2018, Marlin conducted a traffic stop on a silver Toyota Corolla for having no tag displayed. Upon further investigation, he found an expired Washington County registered sex offender identification card in the man's wallet. He had not registered as a sex offender since 2016. He also had a warrant for theft of property first degree and burglary third degree out of the Mobile County Sheriff's Office. Marlin also discovered that the vehicle the man was driving was stolen out of Mobile in May 2018. The vehicle was impounded and the man was arrested.
On Aug. 19, 2018, at approximately 6:18 a.m., Marlin and another officer were dispatched to the 1600 block of Government Street for a report of a man forcing entry into a residence. Upon arrival, Marlin found the man asleep in the victim's bed. The victim stated she had been dating the man for about two months. That morning they had a verbal altercation. Police responded and told the man to leave the residence. Later that evening, he returned and began banging on the victim's doors and windows and kicked in the door to enter. The victim attempted to flee but he grabbed her by the hair and took her phone. She was able to hide in the pantry. She said he started drinking and that was when she escaped the apartment to call police. The man was arrested and charged with burglary second degree.
Marlin aggressively patrols his assigned area including the businesses, schools, churches and residential sections within his beat. He is recognized for being able to handle himself very well with little assistance from his fellow squad members and supervisor, and for assisting other officers on high volume calls for service.
The Mobile Police Department will honor Marlin at the Officer of the Month Luncheon set for Wednesday, Sept. 12, 2018 at noon. Sponsored by the Midtown Optimist Club, the luncheon will be held at the Azalea City Golf Course Club, 1000 Gaillard Drive. The public is invited to attend.
---