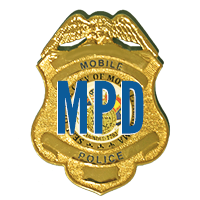 James Ainsworth
October 2018 • 1st Precinct
The Mobile Police Department has named James Ainsworth the Officer of the Month for October 2018. Joining the force in March 2017, Ainsworth works patrol in the First Precinct. He is commended for his great observational skills. Over a three-day period, Ainsworth removed a burglary suspect, robbery suspect and homicide suspect from the streets of Mobile.
On Oct. 5, 2018, at approximately 8:20 p.m., a residence in the 1400 block of Government St. was burglarized. The responding officer was able to disseminate a suspect's picture from the home surveillance system to all squad members. Another officer received information as to who the suspect could possibly be and the area in which he may be found. Around 4 a.m., while searching the area of RV Taylor housing community, Ainsworth spotted and apprehended the burglary suspect still wearing the same clothing as pictured in the video surveillance.
The next night at about 9 p.m., a Mobile citizen was walking in the area of Duval and Kellogg Streets when a known person approached him, pulled a gun on him, and demanded him to give up his property. A second suspect assisted in the robbery. While Ainsworth was taking the report, a bystander pointed out the suspect who was driving pass the location. Without hesitation, Ainsworth immediately went after the suspect and was able to apprehend him a few blocks away.
On Oct. 7, 2018, at approximately 9:55 p.m., police were dispatched to the 300 block of Michigan Ave. in reference to a shooting. A witness provided a description of the fleeing suspect. This allowed Ainsworth to locate and apprehend the suspect a block away. Unfortunately, the victim succumbed to her injuries. But, thanks to the quick work of Ainsworth, a homicide suspect was quickly taken off the streets of Mobile.
For the month of October, Ainsworth responded to 119 calls for service and 77 backup calls. He made three felony and 12 misdemeanor arrests.
The Mobile Police Department will honor Ainsworth at the Officer of the Month Luncheon on Wednesday, Nov. 14, 2018 at noon. Sponsored by the Midtown Optimist Club, the luncheon will be held at the Azalea City Golf Course Club, 1000 Gaillard Drive.
---