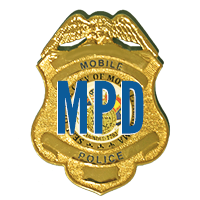 Steven Guidry
February 2020 • 3rd Precinct
The Mobile Police Department has named Steven Guidry the Officer of the Month for February 2020. Joining the force in May 2017, Guidry has distinguished himself through his dedication of service. During the month of February, he responded to 66 calls for service, 61 backings of other officers, and he made nine felony and 53 misdemeanor arrests. Guidry also performed 53 self-initiated proactive policing stops and wrote 92 citations.
Guidry, who is assigned to the Third Precinct, is commended for his efforts to remove drugs and guns off the streets of Mobile as well as for recovering stolen property. He cleared a total of 49 outstanding warrants in one month.
On Feb. 7, 2020, Guidry played a key role in apprehending three first-degree robbery suspects known to be armed with a semi-automatic handgun. He was informed that the suspects were walking west on Clinton Ave. Guidry helped to coordinate the officers' descent upon the suspects so that they would not flee on foot.
On the same day, Guidry stopped a vehicle on North Catherine St. and Lincoln St. The driver of the vehicle threw a handgun from the vehicle as he turned onto Catherine St. from Saint Stephens Road. The driver had a felony warrant for burglary third degree. The gun the driver threw out the window was recovered and more ammunition for the gun was found in the car. The driver was arrested on his warrants and certain persons forbidden to possess a firearm. This was in addition to the citations he received for the initial traffic violations.
On Feb. 18, 2020, Guidry was instrumental in the apprehension of the suspect connected to the Calhoun St. shooting that occurred Feb. 17. The suspect had been known to carry an AK-47. Guidry performed a felony stop on the suspect's vehicle, but the suspect was not in the vehicle at the time of the stop. However, a short time later the suspect was apprehended at his residence.
Later that day, Guidry was able to identify the shooter in the homicide that occurred at the Quick Stop gas station, 424 North Broad St., on Feb. 17. After making contact with a resident living near the area of the homicide, he was able to get the name of the shooter. Guidry immediately passed the name to the Homicide Unit.
On Feb. 21, 2020, Guidry was patrolling the area of Springhill Ave. when a residential burglary was called in and video was sent out to all police. He saw the suspects, who were an exact match, in the area of Dauphin St. and Ann St. Guidry apprehended the two burglars.
The Mobile Police Department will honor Guidry at the Officer of the Month Luncheon on March 11, 2020. The luncheon is sponsored by the Midtown Optimist Club and held at the Azalea City Golf Course Club, 1000 Gaillard Drive.
---