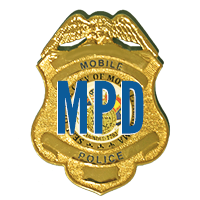 Aaron Goleman
February 2018 • 4th Precinct
The Mobile Police Department has named Aaron Goleman the Officer of the Month for February 2018. Goleman has been on the force since September 2016 and is assigned to Precinct 4 Crime Detail. He is commended for recovering several stolen weapons and apprehending the suspects responsible.
Most of the weapons recovered were found to have been stolen from burglaries where it appeared that law enforcement officers had been the target. Goleman's dedication and tenacity led to the direct location of the suspects and stolen weapons.
On Feb. 1, 2018 at approximately 10 a.m., police units were engaged in a pursuit with a vehicle stolen days prior from Pine Court. The vehicle was occupied by three males. As the driver lost control of the vehicle it struck a tree and the suspects fled on foot. Two of the suspects, 18-year-old Daniel Barrani and 19-year-old Christopher Wyatt, were captured and arrested. The third suspect escaped. Eleven stolen handguns were found in the vehicle. Barrani and Wyatt were booked for an assortment of felony charges stemming from the stolen car and weapons.
The detective was successful in getting information out of the two suspects and developed information on a fourth suspect, a juvenile who had taken part in the theft of the weapons. Goleman located the juvenile and a search of his home led to the recovery of two more stolen weapons. The juvenile was arrested on eight charges of breaking and entering a motor vehicle.
Goleman was not finished yet. He rode the streets following up leads on the whereabouts of the third suspect, identified as 18-year-old Andrew Kossick, who had eluded police.
Soon Goleman located and arrested Kossick, who was known on the streets as "Gun Man" for being able to sell stolen guns.
The capture of Kossick led to further information and another suspect being revealed. Kossick said he had worked with Ross Morrow, 18, to move a bunch of weapons and bury them in the ground. The detective and Goleman located the site where those weapons were buried. They dug up seven rifles and shotguns.
Working the streets aggressively once again, Goleman was able to determine the whereabouts of Morrow and bring him to justice. Morrow was a hard individual who enjoyed the criminal life of selling stolen weapons and cars. He even attempted to smuggle a handcuff key in his mouth to try to help him escape custody. Morrow was booked in Metro Jail on Feb. 7, 2018.
The Mobile Police Department will honor Goleman at the Officer of the Month Luncheon set for noon Wednesday, March 14, 2018 at the Azalea City Golf Course Club, 1000 Gaillard Drive. The Midtown Optimist Club sponsors the luncheon.
---