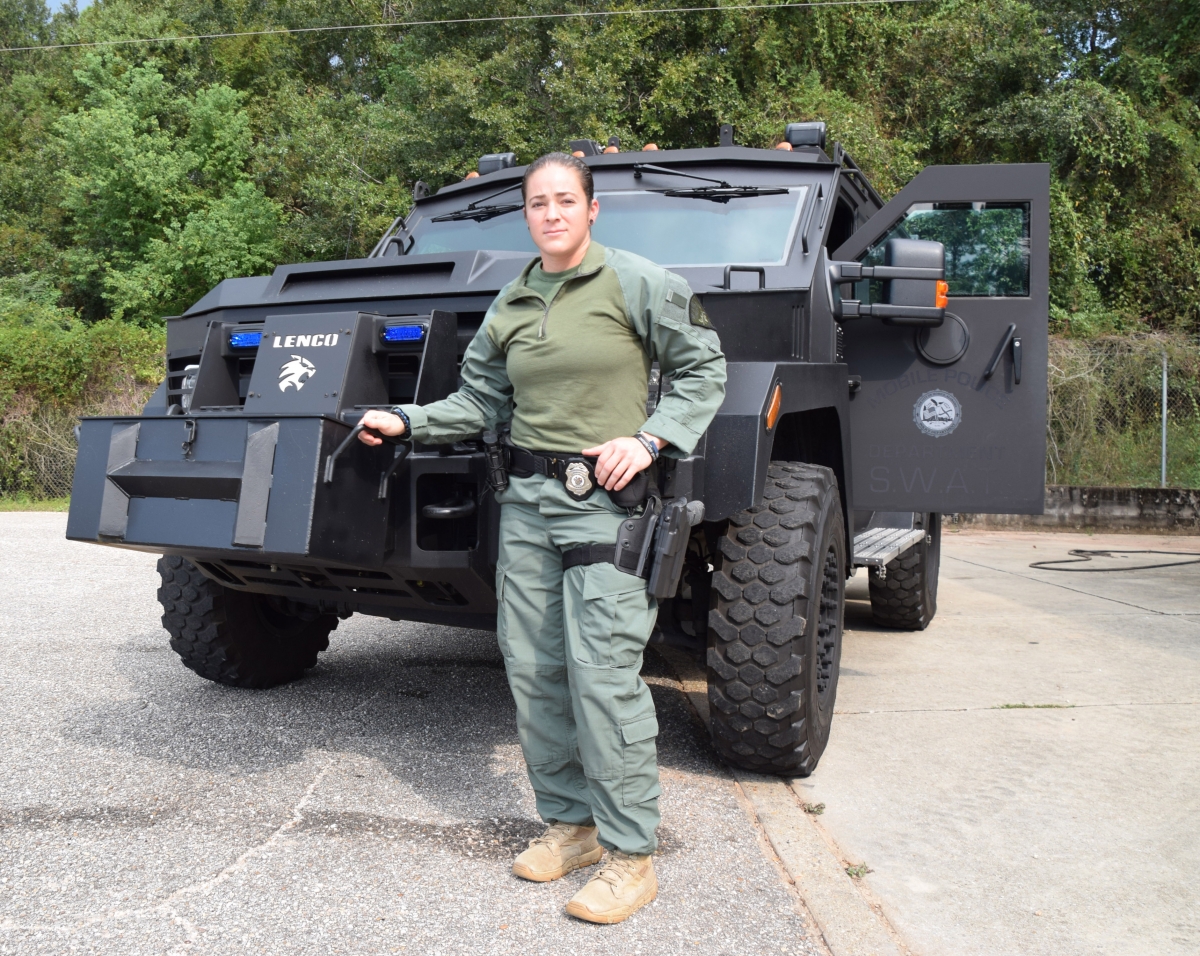 Making history, Officer Jennifer Chisholm is the first female to be selected to the Mobile Police Department Special Weapons and Tactical (SWAT) Team. Being a SWAT member wasn't something Chisholm thought could be a reality until the opportunity presented itself and she decided to go for it.
Chisholm graduated from the Mobile Police Academy in February 2018, worked patrol in the Second Precinct, and later became a detective in the Special Victims Unit-Youth Services Detail. SWAT tryouts were held late spring of this year.
"You have to train your mind, body and spirit for this," Chisholm said. "The opportunity to be part of such an elite group humbles me."
The SWAT Unit is a life-saving unit of highly-trained officers who deal with the most dangerous criminals and situations. Therefore, it has the toughest standards and performance requirements.
"As far as preparation, I don't think I can ever get enough," Chisholm said." I am in various forms of physical competitions from CrossFit, which is high-intensity training, to The Tactical Games, which involves physical fitness as well as the tactical side such as shooting."
When competing in The Tactical Games in Autryville, North Carolina October 2018, Chisholm placed first in the women's division, earning world's best tactical athlete recognition. She believes the competitions helped her tremendously with the physical aspect of the SWAT tryouts.
There are six phases to pass in order to become a member of SWAT. They consist of an obstacle course, which must be completed in 80 seconds, and a gear run completed in 95 seconds. The other phases include a pistol qualification course, combined rifle/handgun combat course with physical tasks, a max effort fitness evaluation and an oral interview to demonstrate professional appearance, demeanor, personal presentation and articulation.
The SWAT team functions by combining the efforts of all its members to achieve greatest success. Chisholm said knowing that she has a team is what prepares her mentally. "They have my six and I have theirs," she added.
When asked how does it feel to be the first female Mobile Police Department SWAT officer. Chisholm explained that she does not want to take anything away from the other SWAT officers simply for being the first female on the team.
"I am too, an officer," she said. "We're not males or females here at the MPD. We're family. We work together. We are a team."