MPD arrests man involved in trafficking heroin
Jan 7th, 2022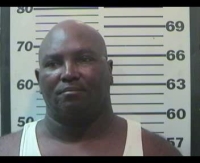 The Mobile Police Department has arrested a 60-year-old man involved in trafficking heroin in the city. Charles Jackson was taken into custody after officers seized a large amount of heroin and other drugs at his residence.
On Tuesday, December 28, 2021, the Narcotics/Vice Unit, SWAT and K-9 executed a search warrant at 2312 Adams Lane as part of an active narcotics investigation. The search led to the seizure of 40 grams of heroin, worth $4,000 on the street.
Officers also seized 4 grams of cocaine and 14 grams of marijuana. A stolen shotgun, two handguns and two vehicles were confiscated as well.
Jackson's charges include trafficking heroin, possession of controlled substance, receiving stolen property second degree, certain persons forbidden to possess a pistol, and possession of marijuana second degree.
Over the past several years, the Mobile Police Department has seen an increase in heroin use. The Narcotics/Vice Unit will continue to investigate and find those individuals involved in trafficking heroin, as such drug use can often lead to overdose deaths. To report drug crime, call 251-208-7211 or send an anonymous tip at mobilepd.org/crimetip.