Donna Betbeze recognized as the Civilian Employee of the Month for July 2022
Aug 18th, 2022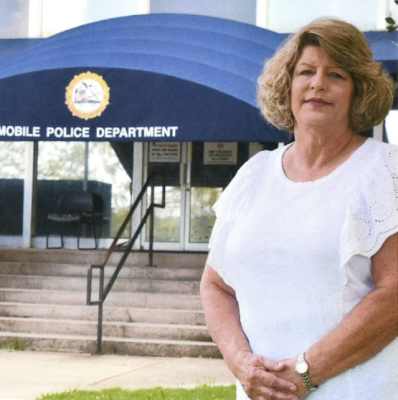 The Mobile Police Department recognizes Donna Betbeze as the Civilian Employee of the Month for July 2022. Joining the department 18 years ago, Betbeze serves as a records specialist. She is applauded for recognizing a man wanted for questioning in reference to a homicide case and immediately notifying the Homicide Unit.
On Monday, July 18, 2022, a man came to police headquarters requesting a background check. Betbeze handled the request. While doing so, she noticed that there was an active alert status on him in the system advising to notify the Homicide Unit if contact was made with him.
Betbeze immediately telephoned the homicide detective to let him know that the man was present at headquarters. She then went to the Homicide Unit to speak with the homicide detective in person and inform him that the man was in the front lobby.
The homicide detective took the man into custody for questioning. The man was found connected to the murder of an 11-year-old juvenile victim that occurred earlier this year. He was subsequently charged with the murder. Due to the attention to detail on Betbeze's part, this violent offender was removed from the streets of Mobile.
As a records specialist, it is important to not only pay attention to the system details such as alerts, but it is also significantly important to make immediate notifications on the findings.
Betbeze is commended for her exhibition of hard work, knowledge, great customer service and communication skills. She is a dedicated team player as well as very knowledgeable and willing to share her knowledge and skills to help others.