Commander Kevin Levy and Cyber Team Design New Aquatic Rescue Drone
Aug 20th, 2021
During a press conference held at Cooper Riverside Park on Friday, August 20, 2021, Mayor Sandy Stimpson and members of the Mobile Police Department presented the Baldwin County Sheriff's Office and its Beach Patrol Unit with a "Float Responder" — an aquatic rescue drone. Commander Kevin Levy of the Gulf Coast Technology Center is the mastermind behind the creation.
"Everything that we have done at the Gulf Coast Technology Center is to make the community safer," Levy said. He expressed that the float responder is one more tool in the toolbox that officers all across the Gulf Coast can use.
The drone can deliver a floatation device to swimmers in distress to help stabilize them until a swim team can reach their location. The City of Mobile presented the drone in memory of BCSO Deputy Bill Smith, who drowned while attempting to save a teenage swimmer in distress near the Fort Morgan peninsula earlier this summer.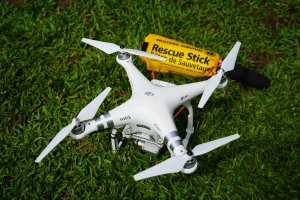 Photo Captions:
Commander Kevin Levy, his Cyber Team, and diver Sgt. Joshua Gibbs (left photo)
Baldwin County Sheriff Hoss Mack gives remarks of thanks at the press conference. (right photo)