MOUNTED TRAINING

Experience Mounted Training Like No Other

22nd Annual Mobile (Alabama) Mardi Gras Mounted School 2014
Wednesday, February 26 to Wednesday, March 5, 2014

Mounted School Information Flyers
To download the documents individually (PDF format), click the following links:
Registration Form
,
Mounted Training Release Form
,
Tshirt Order Form
,
Training Supply List
The Mobile Mardi Gras Mounted School is held in conjunction with the Mobile two-week Mardi Gras celebration. This is a complete school that includes basic equitation techniques, sensory training, obstacle courses, defensive tactics, arrest procedures, vehicle extractions, formation riding, crowd control tactics and strategies and other advanced law enforcement maneuvers.
Expert instructors employ a variety of practical scenarios combined with on-the-street training. (Note: Only participants and mounts with demonstrated skills, and the approval of Mobile Police Department Mounted Unit supervisors, will be allowed to patrol on the streets.) Our instructors emphasize the practical application of mounted patrol within urban environments, and the development of a working team between horse and rider.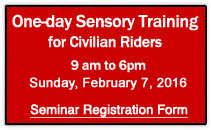 The combination of expert training in controlled settings, along with an incomparable experience of street work during Mardi Gras, yield two major benefits:
A horse and rider team that is trained to meet most challenges of
mounted patrol work.
A bond and trust between horse and rider that will serve them well
in any situation.
MOUNTED UNIT INSTRUCTOR: John Dalziel
John Dalziel has 30 years experience as a mounted officer and riding instructor. Retired from the London Metropolitan Mounted Police, he was master instructor there for 17 years. During his mounted career, John served as an officer, riding instructor, and unit horse trainer. He was retained by the Saudi Arabian National Guard with the rank of "Major" and the title of "Riding Master." John is an accredited riding instructor and trainer with the Classical Riding Club, UK. His classical riding experience encompasses dressage, show jumping, and cross-country. John is the UK Director/Riding Master for the National Mounted Training Group.
MOUNTED UNIT INSTRUCTOR: Don Leland
Don Leland has been involved in Posse/Auxiliary mounted police work since 1981 as a working member and instructor. He has attended mounted police schools at Lexington, Kentucky, New Orleans, Louisiana and numerous Mardi Gras schools in Mobile and has received three reserve championships at National Police Competitions on his Arabian Stallion, SKI. Don has been certified as an instructor by three National Mounted Police groups.
MOUNTED UNIT INSTRUCTOR: Michael Schaffer
Michael Schaffer has been a Mobile police officer for 23 years. Mike was a full time mounted officer for four years and currently works mounted during special events. He is a certified unit instructor specializing in troop movements, crowd control, and policing on horseback. Mike also works as mounted security for large scale music festivals such as Bonnaroo. His high energy teaching techniques make learning an enjoyable experience for all levels of riders.
GUEST INSTRUCTOR: Angela Gottler
Angela Gottler has been riding, training and instructing for over 32 years in almost all disciplines of riding, specializing in Eventing. She was Reserve Champion in the nation in 2004 as a Master Rider in the Training Division of Eventing. Angela's students have been Champions at state and regional 4-H competitions, as well as in breed shows. She and her husband operate a breeding and training facility in South Alabama. Angela is active in many organizations which promote the sport of horsemanship and equine welfare.
MOUNTED UNIT INSTRUCTOR: Jacob Grissom
Jacob Grissom is a current member of the Mobile Police Department Mounted Detail, joining the team in May 2008. Before coming to Mobile, he was the team coordinator for the Florence Police Department Mounted Detail. He has 11 years of mounted patrol experience and over 25 years of working and training horses in various disciplines. Because of his enthusiasm for horses and work ethic, he was made a mounted officer only two months into the start of his police career.
MOUNTED UNIT INSTRUCTOR: Lawrence Beal
Lawrence Beal founded the County Mounties in 2007 which is a multi-county volunteer mounted unit in Hayesville, NC deployed for search and rescue, crowd control and security. He received instructor certification from The National Mounted Police Services and has attended numerous mounted police clinics and schools. Mr. Beal has assisted with Mardi Gras mounted patrol for 9 years.
WHERE:

Mobile Alabama Police Department Mounted Unit
1251 Virginia St.
Mobile, AL 36604-2322
251-208-2726

Directions:

Take I-10 to Virginia St. exit. Turn west and continue for about two miles. Mobile Police Department Training Academy will be on your left. Horse barn is located behind Training Academy building.

WHEN:

February 26-March 5, 2014

MORE INFORMATION:

Name: Laura Knight
Email: MGmountedschool@gmail.com
Phone: 251-281-3628

Pre-registration required.
Approved helmets and negative Coggins required.




BACKGROUND:
It isn't just by chance that the Mobile Police Department's Mounted Unit can navigate through the raucous sights and sounds of a Mardi Gras street parade. The horses and riders of the MPD Mounted Unit train constantly to assure that their horses can maneuver through rowdy revelers, flying doubloons, towering floats and all the unexpected noises and sights of Mardi Gras.
"The goal is to produce a mount that will be calm and obedient under the most stressful conditions by building up a horse's tolerance to unusual sights and sounds.
The Mobile Police Department Mounted Unit was created through a grant of the U.S. Department of Housing and Urban Development (HUD) in 1991 with a mission to patrol the public housing developments of Mobile. After two years, HUD turned over the unit to the city. Currently, there are six mounted patrolman, 10 horses, and 22 stalls.
The MPD Mounted Auxiliary, started in 1997, is a volunteer organization of civilian riders who are trained to patrol with officers as a support unit. The members train regularly and are required to put in patrol time each month.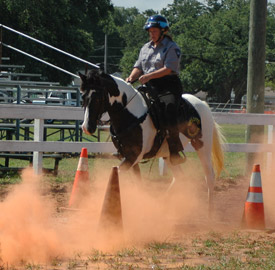 The Horse Barn facilities include two arenas and a large complement of training equipment. Both the sworn officers and auxiliary members have competed nationally and in three of the four national competitions, they have taken first place.
The MPD Mounted Unit hosted its first nationwide training school in 1993.