Major Phillip McCrary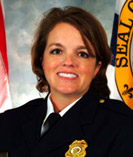 Major Kara Rose
Investigative Support Division
The Investigative Support Division, commanded by Major Phillip McCrary, takes up where the street patrol officer leaves off: tracking the offender and making the case against him or her. These responsibilities fall to the police detectives who operate out of either the Criminal Investigation or Special Investigation Section.
The Criminal Investigation Section, which employs general investigation detectives in each of the five precincts, is responsible for investigating assaults, domestic violence, sex crimes, financial crimes, gun crimes, homicides and robberies. This section is also responsible for collecting, documenting and preserving evidence from crime scenes.
The Special Investigation Section investigates and employs resources to identify those selling and trafficking narcotics. The narcotics unit also enforces laws pertaining to the licensing of establishments that sell alcohol or provide adult entertainment, and investigates illegal gambling and prostitution.
Also under the Special Investigation auspices are the Canine Detail which utilizes highly trained dogs to search for narcotics, suspects and explosive devices and the Youth Services Unit which investigates crimes committed against and by juveniles.
Support Services Division
The Support Services Division is responsible for overseeing a number of the Department's operational functions including: The Communications Unit, The Property and Records Unit, Warrants Detail, Building Maintenance, Impound Yard Detail, Training Unit, and The Firearms and Range Unit.
The Communications Unit, which is housed at the Communications District on Zeigler Blvd. employs more than 50 operators who share space with other first responding agencies. The field emergency calls 24-hours-a-day, seven-days-a-week and route them to the appropriate agency.
The Records Unit, located at Police Headquarters, pours through some 6,000 reports monthly. The Records Unit is open 7 a.m. - 7 p.m. weekdays to copy and provide citizens with police reports; issue permits to chauffeurs, private investigators, security guards, adult entertainers, and solicitors, enter investigative reports into the computer system; and compile and submit Uniform Crime Supplements, which are crime statistics required by the Alabama Criminal Justice Information System.
The Training Unit provides not only continuing education credits for current officers but also oversees the Training Academy which is recognized as one of the best of its kind. It is also responsible for the oversight of the Civilian Cadet Detail.