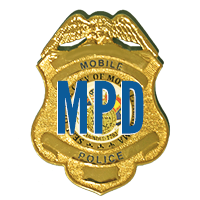 Mickie Glover
March 2017 • 2nd Precinct
The Mobile Police Department has named Mickie Glover Officer of the Month for March 2017. With 10 years on the force as a patrolman, Glover is assigned to Precinct 2. He is recognized for his dedication to help reduce crime in the city of Mobile.
On March 15, 2017, Glover apprehended suspect Ronald Aeberle, who was charged in connection with 14 vehicle burglaries, two stolen vehicles, and three attempt burglaries. Glover responded to Island Motors, 6240 Theodore Dawes Road, in reference to a vehicle theft report. He and the business owner tracked Aeberle with the vehicle in the woods near Rudder Road.
Glover is also commended for taking into custody Bobby Rodgers. He was accused of stealing a vehicle and led police on a pursuit March 16, 2017. Rodgers evaded capture that day, but Glover along with other squad officers located him three days later at a residence on the 7300 block of Foxland Drive hiding in a bedroom. Glover gained consent to search an outside shed at the residence, and found approximately 2,000 bags of potato chips stolen with a trailer.
During the month of March, Glover serviced 42 calls, 50 backings, made 17 felony arrests, 13 misdemeanor arrests, and issued 10 traffic citations.
According to his supervisor, Glover strives to give the citizens of Mobile the very best service possible.
Glover will be honored at the Officer of the Month Luncheon held Wednesday, April 12, 2017 at noon at the Azalea City Golf Course Club, 1000 Gaillard Drive. The Midtown Optimist Club sponsors the luncheon.
---