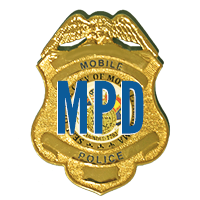 Jeremy Burch
January 2017 • 1st Precinct
The Mobile Police Department has named Jeremy Burch Officer of the Month for January 2017. Working in patrol since 2013, Burch is assigned to the First Precinct Field Operations Division.
According to his superiors, Burch's work ethic and performance has been no less than stellar. In January, he took six guns off the streets, of which three were reported stolen, and made four drug arrests. In total, he made 35 felony and 88 misdemeanor arrests.
Burch is credited for taking into custody the fourth and final suspect, 22-year-old Terrance Massey, wanted in connection to the murder of Cedric Hollinger that occurred Oct. 27, 2015 at the 800 block of Welworth St. On routine patrol, Burch conducted a traffic stop on a white Chevrolet Cobalt in the area of Navco Road and Buena Dr. for a traffic violation. While conducting the investigation, Massey was sitting on the backseat passenger side and gave Burch a fictitious name. Massey was soon identified as wanted and arrested.
On Jan. 17, 2017, Burch spotted a man run across the street attempting to conceal himself behind a pillar of the overpass located on Navco Road. He found the man to be in possession of items taken in a nearby burglary.
When Burch was dispatched to the Texaco Station at 1363 Government St. on Jan. 13, 2017 for a commercial alarm, he discovered the front window of the business busted out. Burch searched the immediate area for possible evidence and discovered a cell phone along with several items taken from the store on the ground behind the location. Using the cell phone, the burglary suspects were tracked down.
Additionally, the suspect that burglarized the Rite Aid on Dauphin Island Parkway and wanted for numerous other crimes locally and with the Gulf Shores Police Department was captured during one of Burch's routine patrols.
Burch will be honored for his exemplary service, answering 106 service calls and 40 backings, at the Officer of the Month Luncheon Wednesday, Feb. 15, 2017 at noon. Sponsored by the Midtown Optimist Club, the event will be held at the Azalea Golf Course Club, 1000 Gaillard Drive.
---