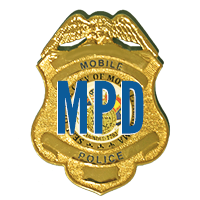 Frederick Freeman
May 2017 • 4th Precinct
The Mobile Police Department has named Frederick Freeman Officer of the Month for May. Freeman is assigned to Precinct 4 Field Operations Division. He has served as a Mobile police officer for 20 years. According to his supervisor, Freeman is best described as a proactive police officer who makes good decisions.
He is commended for his lead in apprehending the suspects who committed a string of commercial burglaries at various businesses including gun stores. On May 11, 2017 at approximately 1:20 a.m., Freeman responded to Grelot Road and Leroy Stevens Road after a commercial burglary occurred at the Tweet Shop.
In pursuit of the suspects, Freeman followed them as they fled from their vehicle to Dickens Ferry Apartments. He exited his patrol car with the suspects in sight. A perimeter was established and the apartment where the suspects were hiding was surrounded. Freeman took a tactical position to cover the apartment while other officers evacuated the adjacent apartments. Without incident, both suspects were taken into custody with one of the suspects confessing to committing at least 10 commercial burglaries.
When two individuals were struck with a BB gun in the Springhill area, Freeman located the suspect responsible. On May 16, 2017 at approximately 11 p.m., he responded to the area of Saddle Ridge Drive off of Repoll Road in reference to a suspicious male in the area. Freeman was able to locate the male and recognized him from a BOLO. He conducted a search of the suspect and discovered he was in possession of spice. The suspect also appeared to be under the influence of some type of illegal narcotic. He was transported to police headquarters and interviewed by investigators. Subsequently, the suspect was transported to Mobile County Metro Jail and charged with several felony counts of assault.
On May 25, 2017 at approximately 4:20 a.m., Freeman responded to a report of one shot involving a residential burglary and received information that there were two suspects. As he turned down the street near the incident location, he noticed a vehicle parked near a fence and spotted the possible suspect in the wood line. He took him into custody and soon found the second suspect lying on the floor in the residence suffering for a gunshot wound. Freeman secured the witnesses and learned the second suspect had kicked the front door open, kicked the bedroom door open, and that's when the home owner began to protect himself.
During the month of May, Freeman answered over 70 calls for service and assisted as backup on 50 calls. He made five felony arrests and several misdemeanor arrests.
The Mobile Police Department will honor Freeman at the Officer of the Month Luncheon at noon Wednesday, June 14, 2017. The luncheon will be held at the Azalea City Golf Course Club, 1000 Gaillard Drive, and sponsored by the Midtown Optimist Club.
---