---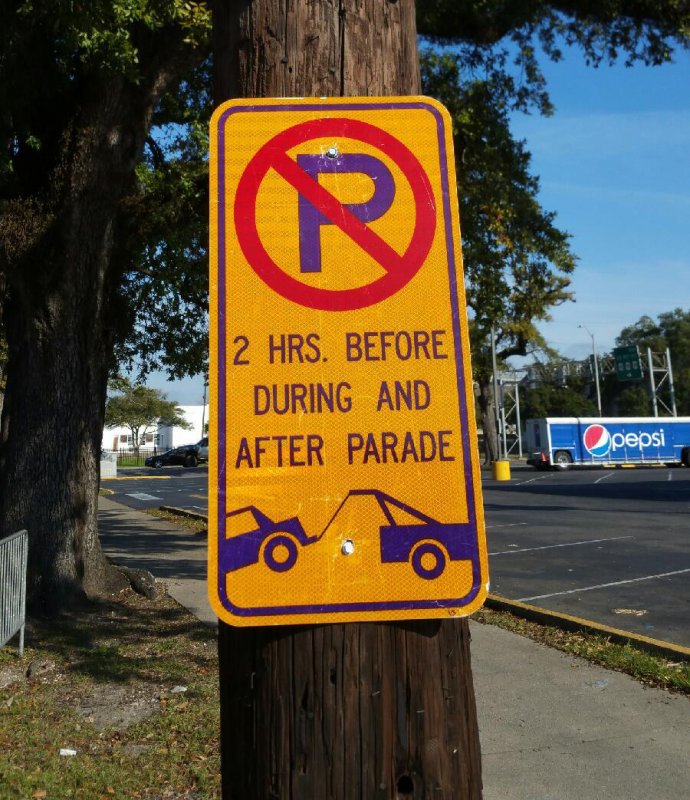 With 300 vehicles towed last year during Mardi Gras, the Mobile Police Department is reminding drivers of the meaning behind the gold and purple signs. The gold and purple signs are up in the downtown area to show exactly where parking is not allowed two hours before, during and after a parade. To avoid paying a $125 to retrieve a towed vehicle, please pay attention to the no parking signs.
There is no parking on the listed Southside Parade Routes.
Church St. between Washington Ave. and Claiborne St.
Canal St. Service Road between Lawrence St. and Dearborn St.
Conti St. between Royal St. and Common St.
There is no parking on the listed Northside Parade Routes.
Lawrence St. between Beauregard St. and Congress St.
Warren St. between St. Anthony St. and Congress St.
Dr. King Ave. between Lexington Ave. and Lafayette St.
St. Stephens Road between Lexington Ave. and Lafayette St.
Guests can park on any side streets that allow parking, but should not block any businesses or residential driveways. Parking is allowed at the Mobile Civic Center, the Mobile Convention Center, and Cooper Riverside Park parking lot.
Towed vehicles will be taken to a Temporary Impound Lot, located at Royal and Madison Streets. That temporary fenced lot is next to the Mobile Cruise Terminal near the I-10 roadway. The Temporary Impound Lot stays open 1 hour and 30 minutes after the end of each parade. The telephone numbers for the Temporary Impound Lot are 251-694-7813 and 251-694-7823.
---
For inquiries contact MPD Public Affairs Office
Contact Phone #:
251-208-1918
Contact Email:
charlette.solis@cityofmobile.org
---
Back To News