The Mobile Police Department Narcotics and Vice Unit executed search warrants Thursday morning, March 30, 2017 on 10 gas stations selling articles that when combined are used to smoke crack cocaine and other various drugs. The search warrant operation was conducted after a six-month long investigation.
Once inside the stores, officers secured all articles considered drug paraphernalia as well as all cash in the store. An enormous quantity of glass tube pens, glass pipes, brillo pads, digital scales, grinders, and gas masks were seized. The use of such items is for the packaging and ingesting of illegal narcotics.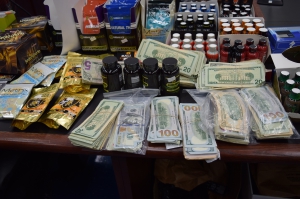 Officers seized CBD Oil gummies, which are gummies that contain cannabinoid oil. CBD oil contains THC. Numerous bottles and packages of Kratom, which recently became a controlled substance, were seized as well as six guns.
Freeze orders were obtained on bank accounts belonging to the stores and their owners. Approximately $245,893 in U.S. currency and $262,644.71 in frozen bank accounts, totaling 508,537.71, were seized. The investigation revealed that the stores were selling the drug paraphernalia and depositing the proceeds into their business accounts. Five secondary search warrants were conducted at the store owners' homes.
Sixteen people were arrested, with a total of 29 misdemeanor arrests and one felony arrest. Two people will be deported.
It is the mission of the Narcotics and Vice Unit to eliminate drug trade and use in the community. Through undercover buys, the gas stations were found selling the articles necessary to use illegal drugs.
"We will not tolerate a business facilitating illegal drug activity by selling drug paraphernalia," said Chief of Police James Barber. "Our efforts will curtail the ease of obtaining items needed to use crack cocaine."
Along with the Narcotics and Vice Unit, SWAT, Mobile County Street Enforcement Narcotics Team (MCSENT), Tactical Intelligence, Gang Interdiction Task Force, Asset Forfeiture, Financial Crimes Unit, Precinct Units, Border Patrol, HSI, Alabama Department of Revenue, and the Alabama National Guard Counter Drug Air Unit assisted with conducting the Gas Station Search Warrant Operation.
Search warrants were executed at the following gas stations.
Shell, 2810 Government Street
Mystik, 65 Cody Road North
Old Shell Convenience, 6551 Old Shell Road
Shell, 1254 Montlimar Drive
Budget Zone, 3951 Airport Blvd
K & S Convenience Store, 1120 Springhill Avenue
First Stop, 1275 Springhill Avenue
My Boys, 750 Holcombe Avenue
Shell, 1700 Michigan Avenue
Discount Zone Citgo, 507 Azalea Road
Here are the names of those arrested and their charges.
Eleftheris Palamoytis (DOB 10/10/1952) - Possession of Drug Paraphernalia
Soheang Im (DOB 3/14/1982) - Possession of Drug Paraphernalia
Sushil Lama (DOB 8/17/1990) - Possession of Drug Paraphernalia
Marie Wacker (DOB 5/3/1983) - Possession of Drug Paraphernalia, Two Misdemeanor Warrants
Singh Rajput (DOB 5/16/1985) - Possession of Drug Paraphernalia
Hamad Azaar (DOB 7/31/1991) - Possession of Drug Paraphernalia x2
Sanjay Singh (DOB 9/18/1984) - Possession of Drug Paraphernalia x5
Karim Ghorbal (DOB 9/7/1972) - Possession of Drug Paraphernalia, Possession of a Controlled Substance (Kratom)
Thi Vu (DOB 8/26/1968) - Possession of Drug Paraphernalia x3
Tinh Nguyen (DOB 2/08/1962) - Possession of Drug Paraphernalia x2
Sam Dani (DOB 3/1/1971) - Possession of Drug Paraphernalia
Rita Patel (DOB 2/11/1966) - Possession of Drug Paraphernalia *Has federal detainer hold to be deported.
Kiran Patel (DOB 9/28/1964) - *Has federal detainer hold to be deported.
Jaber Ghaleb (DOB 1/1/1968) - Possession of Drug Paraphernalia
Sattar Ghaleb (DOB 1/1/1965) - Possession of Drug Paraphernalia x 2
Mohamed Ahmad (DOB 2/18/1989) - Possession of Drug Paraphernalia x 4