Established in 1992 and now expanding to accommodate the growth of the downtown area, the Mobile Police Department Central Precinct will serve as a specialized patrol precinct with specialized tactics and equipment. It will be commanded by a captain and two lieutenants, who will work closely with the downtown community.
Downtown Mobile is comprised of a central business district, an entertainment district, city parks and several residential areas. Events are held nearly every day throughout the year including conventions, concerts, art shows, markets and, of course, the largest celebration in Mobile – Mardi Gras.
With the expanded precinct, businesses and residents can now expect more community policing from officers on mounted, bike, foot and Segway patrols.
CENTRAL PRECINCT COMMANDERS
The officers assigned to Central Precinct are charged with ensuring downtown is a safe place to work, play and shop. Central Precinct will be commanded by Captain James Cunningham, Lieutenant Lee Laffitte and Lieutentant Sean Fisher.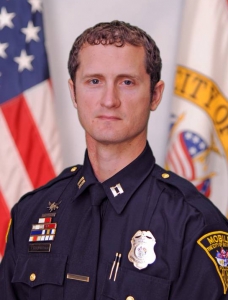 Captain James Cunningham received a bachelor's degree in Criminology / Criminal Justice from Auburn University and a master's degree in Criminal Justice Administration from Columbia Southern University. Cunningham joined the Mobile Police Department in November 2003. After graduating from the Mobile Police Academy, he was assigned to the First Precinct as a patrol officer.
In 2008, Cunningham was promoted to corporal. He was promoted to sergeant in 2011 and lieutenant in 2013. Cunningham served in supervisory positions while assigned to the Jaguar Unit, SWAT Team, Mounted Unit, Homeland Security and Tactical Intelligence before being assigned to the Central Events Mini-Precinct.
During these assignments, Cunningham was recognized for his hard work and received the Meritorious Service Award, Chief's Unit Awards, Life Saving Award, Chief's Commendations, and Officer of the Month.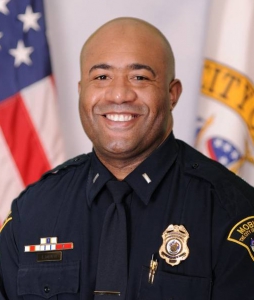 Lieutenant Lee Laffitte is a 17-year veteran of the Mobile Police Department. Laffitte holds a bachelor's degree in Criminal Justice Administration from Columbia Southern University. He began his career with the Mobile Police Department as a cadet at age 19.
Laffitte has served in several units, including Community Policing, Field Operations, Special Investigation, and Intelligence. With experience gained both as an investigator and a supervisor, he will bring the techniques of intelligence-led policing to Central Precinct with the same enthusiasm and determination that earned him the Excellent Police Duty medal four times, the Chief Commendation medal four times, and the Chief's Unit Award eight times. Lieutenant Laffitte also continues to engage with his community during his off-duty time by speaking at area churches and volunteering as a youth basketball coach.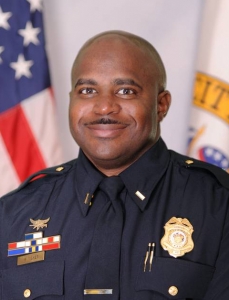 Lieutenant Sean Fisher proudly served in the United States Navy from 1996 to 2000. After earning the rank of E-4 as a third-class petty officer, Fisher exited the military with honorary discharge in pursuit of new endeavors. He became a Mobile police officer in 2005.
Fisher's first assignment was First Precinct patrol. He received Officer of the Month in February 2007 for his proactive style of policing that resulted in the removal of large quantities of drugs from the streets. In 2008, he was transferred to Special Operations Jaguar Detail, a street-enforcement unit responsible for apprehending violent offenders.
Fisher served in both Second Precinct and Fourth Precinct as a patrol squad supervisor. He was later assigned to work in Tactical Intelligence and the Narcotics Unit, which is where he gained his investigative experience. Most recently, Fisher served on the SWAT Unit as a team leader and was responsible for dealing with hostage situations, barricaded suspects and active shooters. He also carried out high-risk search and arrest warrants.
Fisher earned his bachelor's degree in Criminal Justice Administration from Columbia Southern University. Over the years, he has received several awards including the Chief's Unit Award, Chief Commendation Award, Excellent Police Duty Award, Meritorious Service Award, and the Combat Cross Award.