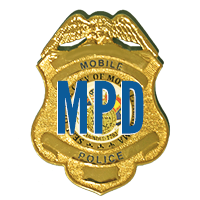 Wilfredo Fernandez
January 2021 • Traffic Safety Unit
The Mobile Police Department is proud to announce that Wilfredo Fernandez is the Officer of the Month for January 2021. Fernandez joined the department in October 2015. He is a traffic homicide investigator for the Traffic Safety Unit. Fernandez is commended for locating and capturing a most wanted fugitive connected to a sexual assault and burglary that happened on Christmas Day.
On Thursday, January 12, 2021, Fernandez was conducting a field investigation in reference to a leaving the scene of an accident (LSA) case. On this same day, Fourth Precinct units were conducting a manhunt on the wanted fugitive in the area of Cottage Hill Road and Woodland Road. Because most units were involved in the manhunt, Fernandez took the initiative to assist with responding to calls.
A suspicious call was dispatched in reference to a citizen spotting a person, who was wearing a blonde wig, on Cody Road near Mobile Terrace. This was approximately six miles away from the area where the manhunt was taking place.
Fernandez responded to the call and began thoroughly searching the area where the person was spotted. He soon saw the person, as described by the citizen, walking on Cody Road North near Fifth Street. Fernandez was able to identify the person as the wanted fugitive and took him into custody. He was booked into Metro Jail on 13 charges for crimes committed from December 15, 2020 through January 11, 2021.
For the month, Fernandez completed 43 LSA/traffic investigations. He had been assigned 39 new LSA/traffic investigations of which two were fatal accidents. Outside of his normal duties as a traffic homicide investigator, Fernandez responded to 10 calls, two backings and wrote 38 traffic citations. He made one misdemeanor and 16 felony arrests.
---