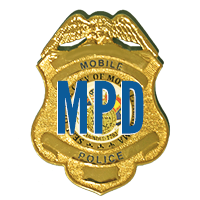 Tiffany Monte
August 2017 • 4th Precinct
Officer Tiffany Monte is awarded Officer of the Month for August 2017 for her dedication to duty to curtail crime in the City of Mobile. Joining the Mobile Police Department in October 2015, Monte serves as a patrol officer in Precinct 4. Her quick thinking and professionalism as well as knowledge of her patrol area play a vital part in the apprehension of suspects.
Monte is commended for capturing the two men connected to 13 burglary-related felony crimes. On Wednesday, Aug. 2, 2017 at approximately 4 a.m. Monte responded to Oak Ridge Apartments, 4215 Moffett Road, in reference to a complaint about unknown men breaking into several vehicles parked at the apartment complex. As she pulled into the parking lot, she observed a suspect, later identified as 19-year-old Devonta Isaac, leaning into an opened vehicle. As she attempted to approach, Isaac fled on foot and she gave chase but lost sight of him.
While Monte was checking vehicles, she saw Isaac lying in the front driver's seat of a gold Honda Accord. She quickly directed other units into the area and established an airtight perimeter to prevent escape. The second suspect, 19-year-old Jermaine Page, was located and arrested. The suspects were also linked to vehicle burglaries in Precinct 3.
The next day at approximately 6:30 p.m., Monte responded to the Central Stop Gas Station located at 7081 Howell's Ferry Road in reference to a shooting. The victim's girlfriend informed that the suspected shooter ran to a house in the 1500 block of Cody Road. Immediately, Monte helped set up a perimeter around the location with the suspect and evidence inside until investigators arrived on the scene.
For the month of August 2017, Monte responded to 79 calls and 53 backings. She made 14 felony and 22 misdemeanor arrests, and issued 10 citations.
The Mobile Police Department will honor Monte at the Officer of the Month Luncheon Wednesday, Sept. 13, 2017 at noon at the Azalea City Golf Course Club, 1000 Gaillard Drive. The Midtown Optimist Club sponsors the luncheon.
---