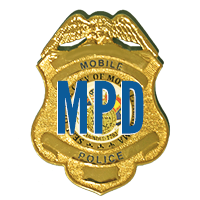 Terry Sexon
July 2019 • 4th Precinct
The Mobile Police Department has named Terry Sexton the Officer of the Month for July 2019. After working in investigations as a firefighter with Mobile Fire-Rescue for nine years, Sexton transferred to become a police officer. In April 2018, he was assigned to work patrol in the Fourth Precinct. During the month of July, Sexton serviced 68 calls and 49 backings, made 26 felony and 18 misdemeanor arrests, and wrote eight traffic citations.
Sexton is commended for his commitment and professionalism to duty. His quick thinking and ability to gather information and share it with other key units led to the capture of the suspects involved in multiple burglaries and robberies.
On July 8, 2019, Sexton responded to the area surrounding the Publix located on University Blvd. and Airport Blvd. in an effort to assist the Mobile County Sheriff's Office (MCSO) with locating the suspect who had just robbed Little Caesars at Moffett Road and Schillinger Road. MCSO obtained additional information that the suspect was in the area of Walmart on the Beltline Service Road. Sexton went to the area and spotted the suspect's vehicle, a maroon van. He located the suspect inside the van.
Sexton kept his eyes on the suspect and van and maneuvered police units into position to take the wanted suspect into custody. As units approached the suspect, he attempted to move toward the front of the vehicle but was stopped by officers who were pre-positioned.
When officers searched the vehicle they found a loaded handgun in the front of the van. Because of Sexton's actions and attention to detail he did not let the suspect reach the loaded weapon to harm any individuals or police officers. When the suspect was interviewed by investigators, he confessed to multiple burglaries and robberies in several states. He also had numerous felony and misdemeanor warrants from Texas and Louisiana. The suspect was charged with 23 felonies and 13 misdemeanors.
On July 27, 2019, a 2007 black Cadillac Escalade was stolen for the Texaco gas station located at Wolf Ridge Road and Moffett Road. Sexton responded to the call and conducted the initial investigation. He gathered the stolen vehicle information in an attempt to locate the vehicle. When the stolen vehicle was spotted, a pursuit was initiated. The vehicle was heading back to the area of Moffett Road and Wolf Ridge Road. Sexton moved into the area and established a perimeter. The suspects involved were soon taken into custody.
The Mobile Police Department will honor Sexton at the Officer of the Month Luncheon, sponsored by the Midtown Optimist Club. The luncheon will be held at the Azalea City Golf Course Club, 1000 Gaillard Drive, at noon on Wednesday, Aug. 14, 2019.
---