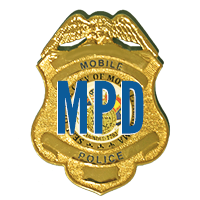 Michael Motykiewicz
May 2016 • 4th Precinct
For going above and beyond to protect and serve the citizens of Mobile, Michael Motykiewicz is named Officer of the Month for May. Motykiewicz is a patrol officer in the Fourth Precinct and has been on the force for six years.
Motykiewicz investigates each report he receives of suspicious activity from concerned citizens. Recently, he responded to a call of a possible burglary at a residence. Upon arrival, he discovered that the front door had been kicked in. Motykiewicz found an armed subject inside, made the arrest and charged him with Burglary 1st Degree and Persons Forbidden to Possess a Pistol.
Additionally, Motykiewicz located and arrested the suspects wanted for robbing a pizza delivery driver at gunpoint.
During the month of May, Motykiewicz had 79 calls, 54 backings, nine felony arrests, 13 misdemeanor arrests and issued 11 citations.
Motykiewicz will be honored at the Mobile Police Department Officer of the Month Luncheon June 14, 2016 at noon. Sponsored by the Midtown Optimist Club, the event will be held at the Azalea Golf Course Club, 1000 Gaillard Drive.
---