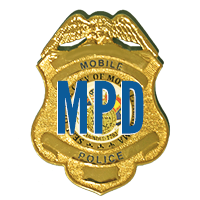 Kahdra Hobdy
September 2020 • Fourth Precinct
The Mobile Police Department has named Kahdra Hobdy the Officer of the Month for September 2020. Graduating from the Mobile Police Academy in July 2019, Hobdy works patrol in the Fourth Precinct.
During the month, she responded to 77 calls for service and provided backing on 30 additional complaints. Hobdy made five felony and 19 misdemeanor arrests.
According to Hobdy's superiors, her preemptive attitude and goodhearted nature is what makes her a wonderful asset to the squad and to the Mobile Police Department. She is commended for actively working patrol and making many of her arrests in hot spots areas. Here are a few examples of Hobdy's tenacity.
While patrolling her beat on September 2, Hobdy observed a vehicle with an improper tag at the intersection of Cody Road and Zeigler Boulevard. She initiated blue lights and siren to pull over the vehicle. During her approach to the vehicle, she observed the driver making a furtive movement as if to conceal something under the driver's seat.
The odor of burnt marijuana emanated from the vehicle. The driver and passenger were removed from the vehicle for officer safety and detained. A subsequent search of the vehicle yielded a glass jar and plastic bag containing green leafy material which appeared to be marijuana. Two handguns were also found, one stolen out of Mobile and the other stolen out of Chickasaw.
On September 13, Hobdy initiated a traffic stop at the intersection of Moffett Road and Overlook Road on a red sedan for no visible tag. She obtained the driver's information and saw that he had warrants for his arrest.
Hobdy removed the driver from the vehicle and secured him. She got verbal consent to search the vehicle and found a cigar rolled fashion "blunt" on the passenger side floorboard. The discovered item contained green leafy material known to be synthetic marijuana. The arrested driver was charged accordingly and transported to Metro Jail.
On Tuesday, September 22, Hobdy observed a gray Toyota Camry located on Athey Road near Overlook Road that had failed to signal while executing a turn onto Overlook Road. Hobdy initiated her blue lights and siren and pulled the vehicle over.
She immediately noticed the odor of marijuana emanating from the vehicle. Hobdy quickly took action by securing the driver of the vehicle and was able to confiscate several ounce bags of marijuana from the listed vehicle. Digital scales were also found during her search of the vehicle.
Since being assigned to the Fourth Precinct, Hobdy has proven that she is able and willing to do the job that she swore to. Her superiors added that she has personified every quality of an exceptional police officer. Even during Hurricane Sally, Hobdy continued to be vigilant on her beat looking for the "bad guys."
---