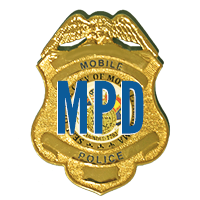 Jesse Sluder
April 2018 • 2nd Precinct
The Mobile Police Department honors Jesse Sluder as the Officer of the Month for April 2018. Serving as a police officer since October 2015, Sluder is assigned to Precinct 2. During the month of April, he responded to 116 calls for service and 24 backings. Sluder made 10 felony and 45 misdemeanor arrests and wrote 22 traffic citations.
According to his superiors, Sluder's proactive nature and professional demeanor is what sets him apart. He is commended for his tremendous work in locating and arresting several suspects wanted for burglaries, robberies, thefts and other offenses.
On April 10, 2018, Sluder was on routine patrol when he observed a Cadillac on Tillman's Corner Parkway that matched the description of a vehicle stolen the night prior. He conducted an investigative stop on the vehicle and took the driver into custody. The driver was charged with theft of property first degree.
Later that day, Sluder was called to a robbery that occurred at the Race Way gas station on Highway 90. He obtained a picture of the subject from surveillance video. The next day, Sluder canvased the area with the picture and talked to employees at the hotels on Inn Road. Several employees advised the subject does frequent the area. Sluder then received a call from one of the employees who stated the suspect was on the third floor of Inn Town Suites. He went to the hotel and located the suspect. The suspect was charged with robbery first degree.
On April 19, 2018, Sluder recognized a subject from a BOLO that was issued by Precinct 2 detectives. The subject was wanted for a felony theft and was charged with theft of property third degree.
Sluder located the female suspect wanted for questioning in reference to multiple burglaries on April 23, 2018. She was arrested and charged with attempted burglary third degree, unlawful breaking and entering a vehicle, and possession of drug paraphernalia.
On April 24, 2018, Sluder received an anonymous tip that a known male subject who was wanted for attempted burglary at the Chevron gas station located on Highway 90 was in the woods behind the gas station. When Sluder arrived at the location, the suspect fled. After a short foot pursuit, he was able to take the suspect into custody. The suspect was arrested and charged with criminal mischief third degree and eluding.
The Mobile Police Department recognized Sluder at the Officer of the Month Luncheon, sponsored by the Midtown Optimist Club. The luncheon was held May 9, 2018 at noon at the Azalea City Golf Course Club.
---