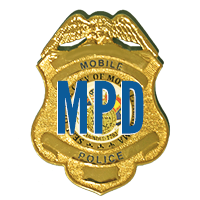 Jesse Sluder
June 2017 • 2nd Precinct
The Mobile Police Department honors Jesse Sluder with the Officer of the Month Award for June 2017. Joining the force in October 2015, Sluder is assigned to patrol in Precinct 2.
For the month of June, he responded to 113 calls for service and assisted on 62 calls. Sluder made 18 felony arrests, 27 misdemeanor arrests, and issued 15 citations.
According to his supervisor, Sluder has the truest spirit of a dedicated street officer and is committed to do his part to prevent criminal activity. He is applauded for his keen observation skills and attention to detail that resulted in removing dangerous criminals, weapons and drugs off the city's streets.
While on routine patrol June 5, 2017, at approximately 8:30 a.m., Sluder observed a vehicle occupied by a female driver who appeared apprehensive as he passed by her vehicle. He observed that her tag was expired. Prior to initiating his blue lights, she pulled off the roadway and exited the vehicle. She stated she was having vehicle problems. But, a driver information check indicated she had five outstanding misdemeanor warrants and one felony warrant. Methamphetamine and a loaded S & W 9mm semi-automatic handgun along with 58 rounds of ammunition were found in her vehicle. She was arrested on the outstanding warrants and charged with possession of a controlled substance and no pistol permit.
On June 11, 2017 at approximately 9:50 a.m. Sluder responded to a report of trespassing in the 6400 block of Hayfield Road. Upon arrival, he found 33-year-old Kevin Newton and detained him for outstanding warrants. When searching Newton, Sluder uncovered a balled up receipt in his pocket, which based upon his knowledge and experience did not feel right. After close inspection, Sluder found it was being used to conceal methamphetamine. Newton was arrested.
Sluder is commended for his ability to track down wanted suspects. On June 25, 2017 at approximately 10 a.m., while on routine patrol in the area of 5400 Inn Road, he observed a man sitting in a silver Jeep. When the man exited the vehicle, Sluder recognized him as Nicholas Haulcomb from a recent BOLO for first-degree robbery. Haulcomb quickly crossed the parking lot out of Sluder's sight. Sluder called for backing and after questioning people in the area he learned where Haulcomb was staying and took him into custody. Sluder's arrest of Haulcomb cleared two open cases for armed robbery, one for false imprisonment, and one for shooting into an occupied dwelling.
The Mobile Police Department will recognize Sluder at the Officer of the Month luncheon Wednesday, July 12, 2017 at noon. Sponsored by the Midtown Optimist Club, the luncheon will be held at the Azalea City Golf Course Club, 1000 Gaillard Drive.
For more information on supporting the Officer of the Month Program or to join the Midtown Optimist Club as a guest, contact Ernest Rogers at 251-604-5368.
---