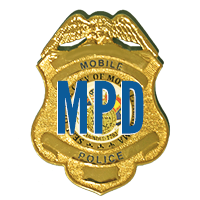 Jeffery Boddie
February 2017 • 4th Precinct
The Mobile Police Department honors Jeffery Boddie as Officer of the Month for February 2017. Joining the force in 2016, Boddie works in the Field Operations Division as a patrolman in Precinct Four. He is commended for his quick thinking and attention to detail to thwart suspects' criminal efforts.
When he responded to Southern Oak Court on February 7 referencing an unknown male possibly armed with a gun, Boddie, along with the backing officers, stopped short of the location and proceeded on foot in effort to conceal their movement due to low light conditions. Boddie observed the male in the bed of a pickup truck in a driveway pointing a rifle in his direction. Boddie gave several verbal commands for the suspect to drop the rifle. The suspect eventually complied and was taken into custody. Boddie found four hand guns and numerous amount of ammunition also in his possession as well as cocaine.
On February 22, Boddie was close patrolling the area of Hunters Ridge Drive due to residents' complaints of an unknown male committing vehicle burglary. While canvassing the area, he observed the suspect coming out of the back yard of a residence carrying items. Boddie detained the suspect and had the General Investigations Unit respond to the scene. It was determined that the suspect was responsible for a total of nine vehicle burglaries and a stolen vehicle.
For the month of February, Boddie responded to 46 calls for service and served as a backing unit on 28 calls. He made 10 felony arrests, 10 misdemeanor arrests, wrote one ticket, and worked four traffic accidents.
The Mobile Police Department will honor Boddie at the Officer of the Month Luncheon held noon Wednesday, March 15, 2017 at the Azalea City Golf Course Club, 1000 Gaillard Drive. The luncheon is sponsored by the Midtown Optimist Club.
---