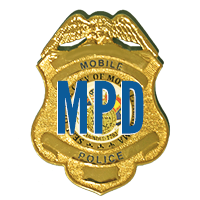 Devin O'Shea
September 2017 • 1st Precinct
Devin O'Shea has been named Officer of the Month for September 2017. Joining the Mobile Police Department in May 2017 with more than 10 years of law enforcement experience, O'Shea works patrol in Precinct 1. During the month, he made 14 felony and 14 misdemeanor arrests, and responded to 119 calls for service and backed on 59 calls.
On Sunday, Sept. 17, 2017 around noon, O'Shea responded to the 1400 block of Odette Avenue in reference to a missing/runaway juvenile. Upon arrival, he spotted a 2010 Dodge Charger parked in front of the residence. The vehicle was reported stolen the night before. O'Shea called for backup to establish a perimeter around the residence. Four men, one girl and two small children were inside the home.
Two of the men, 18-year-old Deangelo Wallace and 19-year-old Jaylan Boggs, were found connected to the carjacking and arrested. Jason Boggs, 18, was arrested and charged with receiving stolen property first degree. The three men were also charged with chemical endangerment of a child. During conducting the search warrant, 25 grams of marijuana, scales and a marijuana grinder were discovered – all within reach of the 2 year old and 4 year old present at the residence.
The girl was identified as the missing runaway and was returned home. The other man has been identified as the suspect in several residential burglaries.
Earlier in the month, O'Shea arrested a residential burglary in the Riviera neighborhood. On Thursday, Sept. 7, 2017 at approximately 1:44 p.m., O'Shea responded to a burglary alarm in the 1300 block of Willow Lane. He noticed that two windows at the location had been busted out. Neighbors gave description of a suspicious man who walked through their yard carrying a satchel bag. O'Shea saw the suspect, later identified as 30-year-old Mario Boone, at the intersection of Willow Lane and Bucker Road South. After a brief foot pursuit, O'Shea apprehended Boone who was charged with burglary third degree.
The Mobile Police Department will honor O'Shea at the Officer of the Month Luncheon for his exceptional work. The luncheon is at noon Wednesday, Oct. 11, 2017 at the Azalea City Golf Course Club, 1000 Gaillard Drive. The Midtown Optimist Club sponsors the luncheon.
---