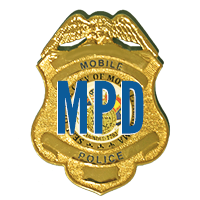 David Conditt
November 2017 • 1st Precinct
The Mobile Police Department has named David Conditt Officer of the Month for November 2017. With 10 years on the force, Conditt works as a patrol officer in Precinct 1. During the month, he responded to 67 calls and 35 backings, and made two felony and six misdemeanor arrests.
Conditt is recognized for working closely with the investigators to solve commercial burglaries in the city where cigarettes were the target of theft. Conditt hit the streets and started talking to anyone who might know the suspect or heard of someone selling cigarettes on the streets. He would stop and do field interrogation cards on possible suspects fitting the description. As a result, Conditt was able to get a street name of a possible suspect and address where the suspect might live. The suspect was taken into custody and found connected to one of the commercial burglaries.
Throughout this cigarette theft investigation, Condit has gone above and beyond what is required of a patrol officer. He realized the workload on the investigators at the precinct, and was willing to get out on the street and help investigate and generate leads.
The Mobile Police Department will honor Conditt at the Officer of the Month Luncheon held Wednesday, December 13, 2017 at noon at the Azalea City Golf Course Club, 1000 Gaillard Drive. The Officer of the Month Luncheon is sponsored by the Midtown Optimist Club.
---