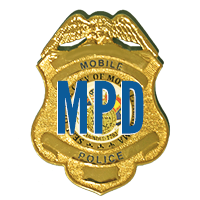 David Conditt
May 2018 • 1st Precinct
The Mobile Police Department honors David Conditt as Officer of the Month for May 2018. With more than 10 years on the force, Conditt works patrol in Precinct 1. During the month of May, he responded to 105 calls for service and 45 backings, and made three felony and six misdemeanor arrests. Conditt is recognized for the tremendous job he's done in actively locating and arresting several suspects wanted for burglaries, robberies, thefts and other offenses.
On May 29, 2018, while patrolling the area of Michigan and Arlington Street, Conditt heard multiple gunshots and advised the operator. He started checking the area and observed two men running south toward the R.V. Taylor housing complex. One was armed with a rifle and the other was armed with a pistol. When the two suspects realized they had been spotted by Conditt, they changed course and ran north between Rev. A.T. Days and Leo Streets. Conditt pursued the suspects on foot. He was able to direct other officers to the area where the suspects had been seen between houses. A perimeter was set up and the suspects were detained in the backyard of a house on Bay Avenue, and both weapons were recovered.
The operator received a report that a person had been shot in the area of Rev. A.T. Days and Melrose Streets while officers were in pursuit of the suspects. Officers responded and found the victim shot multiple times. The victim was transported to the hospital with non-life threatening injuries.
Being constantly aware of his surroundings, Conditt responded quickly to a dangerous situation. He and all other responding officers placed themselves in danger to protect innocent citizens from two criminals, which also resulted in two weapons being removed from the streets.
Conditt excels at caring for the citizens of Mobile, especially the victims of crimes. He goes above and beyond what is required of a police officer. His initiative, quick thinking, and professionalism in his overall performance show a proactive police style that is a tremendous asset to the city.
The Mobile Police Department will recognize Conditt at the Officer of the Month Luncheon on Wednesday, June 13, 2018 at noon. Sponsored by the Midtown Optimist Club, the luncheon will be held at the Azalea City Golf Course Club, 1000 Gaillard Drive.
---