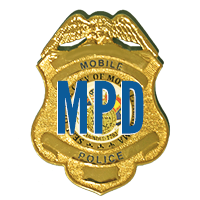 Daniel Marlin
November 2018 • 1st Precinct
The Mobile Police Department recognizes Daniel Marlin as the Officer of the Month for November 2018. Joining the department in January 2016, Marlin works patrol in the First Precinct. He is commended for removing a burglary suspect off the streets.
On Monday, Nov. 26, 2018, at approximately 11:29 p.m., Marlin was working off duty at Mobile Infirmary when he noticed a gold Chevrolet Impala circling the parking area of the hospital. The Impala matched the description of the vehicle observed at several recent vehicle burglaries.
Marlin stopped the vehicle and detained the suspect. While waiting for the detective to arrive on scene, he checked the vehicle and discovered the items taken from the reported vehicle burglaries.
During the stop, a victim approached the officers stating that his vehicle was burglarized at the location. The suspect later confessed to breaking into several vehicles at the hospital and stealing items from each of the vehicles.
Officers also found credit cards in the suspect's vehicle, possibly belonging to additional victims. The suspect was taken to Metro Jail and charged with six counts of unlawful breaking and entering a vehicle.
For the month of November, Marlin responded to 75 calls for service and 57 backings. He made six felony and 16 misdemeanor arrests, and wrote four traffic citations and two UNTC citations.
The Mobile Police Department will honor Marlin for his service to the community at the Officer of the Month luncheon set for noon Wednesday, Dec. 12, 2018 at the Azalea City Golf Course Club, 1000 Gaillard Drive. The Midtown Optimist Club sponsors the Officer of the Month luncheons.
---