National Night Out 2018 Registration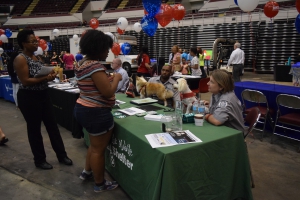 Together, we can make our communities safer, more caring places to live.
National Night Out is a grand celebration that promotes police-community partnerships and neighborhood camaraderie.
Let us know if your neighborhood will participate in National Night Out. We would like to recognize you at the event! Email gary.owens@gmail.com.
Register today as a National Night Out 2018 exhibitor!
The Mobile Police Department and the City of Mobile Special Events Department will host the 35th annual event at the Mobile Civic Center Arena Tuesday, August 7, 2018 from 6:30 to 9:00 p.m. Neighborhoods from across the city are invited to learn more about public safety through live demonstrations as well as receive the latest crime prevention awareness education. This free family-friendly night out includes a Kids Zone and entertainment.
Come celebrate National Night Out with other local businesses, service agencies and law enforcement agencies. For more information on becoming an exhibitor, call Officer Gary Owens at 251-208-1938 or email gary.owens@cityofmobile.org. The exhibitor registration deadline is Friday, July 27, 2018.
This award-winning national community crime prevention event also includes a 5K Run at Bienville Square. For more information on the 5K Run, call Lt. Kay Taylor at 208-1935 or email kay.taylor@cityofmobile.org.
---