Mobile business owners and residents can take a proactive approach to help police catch criminals by becoming a Project Shield partner. Business owners and residents who join Project Shield become part of a network that is building a safer community through partnerships. In the event criminal activity happens in an area close to video systems, the Mobile Police Department looks to the public, more than ever, to obtain surveillance video.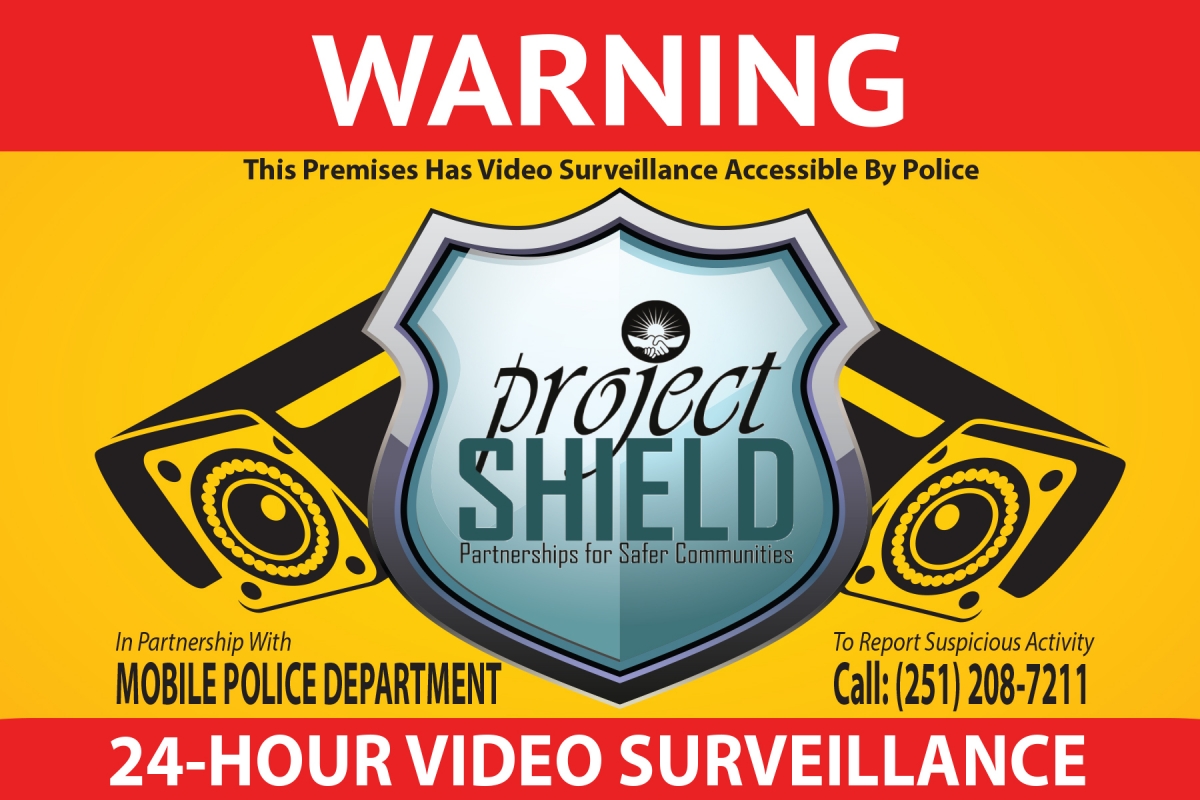 To allow officers to locate video surveillance footage quicker to help an investigation, business owners and residents are asked to register their video cameras through Project Shield. This way the Mobile Police Department will know in advance exactly which businesses and homes have cameras, thus spending less time going door to door asking for video surveillance footage.
"This is a ground-breaking effort that absolutely demonstrates the value in law enforcement and private sector relationships," said Kevin Levy, commander of the Technology & Cyber-Intelligence Section and Gulf Coast Technology Center. "We cannot simply do it alone anymore. We need these types of relationships."
The partnership with community members has resulted in access to over 10,000 live video feeds, currently. Some are in schools, malls and residential communities.
"Law enforcement is just trying to harness an additional resource to get the bad guy off the street quicker and protect life and property using the valuable relationships we work with every day," Levy said.
He explained that these feeds are not monitored or even accessed by law enforcement unless in relation to an ongoing emergency, incident or criminal investigation.
Project Shield is the city's safety net that provides first responders with information in real time. By using existing surveillance camera feeds – specifically those located at business locations and in exterior residential sites such as doorbell cameras –a significantly higher chance of apprehending the offender could result.
One of the first cases where Mobile police found a doorbell camera extremely helpful in catching a criminal was a residential burglary that occurred in the downtown area in April 2017. The suspect forced open the front door of a home, entered and within seconds walked out stealing a television. The burglary was captured on the victim's doorbell camera. Police used the video to identify the suspect, 28-year-old Omar Knott, and make an arrest.
Project Shield is a program of the Mobile Police Department's Cyber-Division. Its goal is to use technology to fight crime so that each and every community member feels safe, while empowering officers to respond more rapidly with direct and specific intelligence.
There is no cost to join Project Shield. To become a partner and to register a camera system, visit mobilepd.org/project-shield. For more information, call 251-208-9000 or email mpdcyber@cityofmobile.org.