---
The Mobile Police Department will host Movie in the Park this summer. On selected dates, family-friendly movies will play on the big screen at parks throughout the city of Mobile.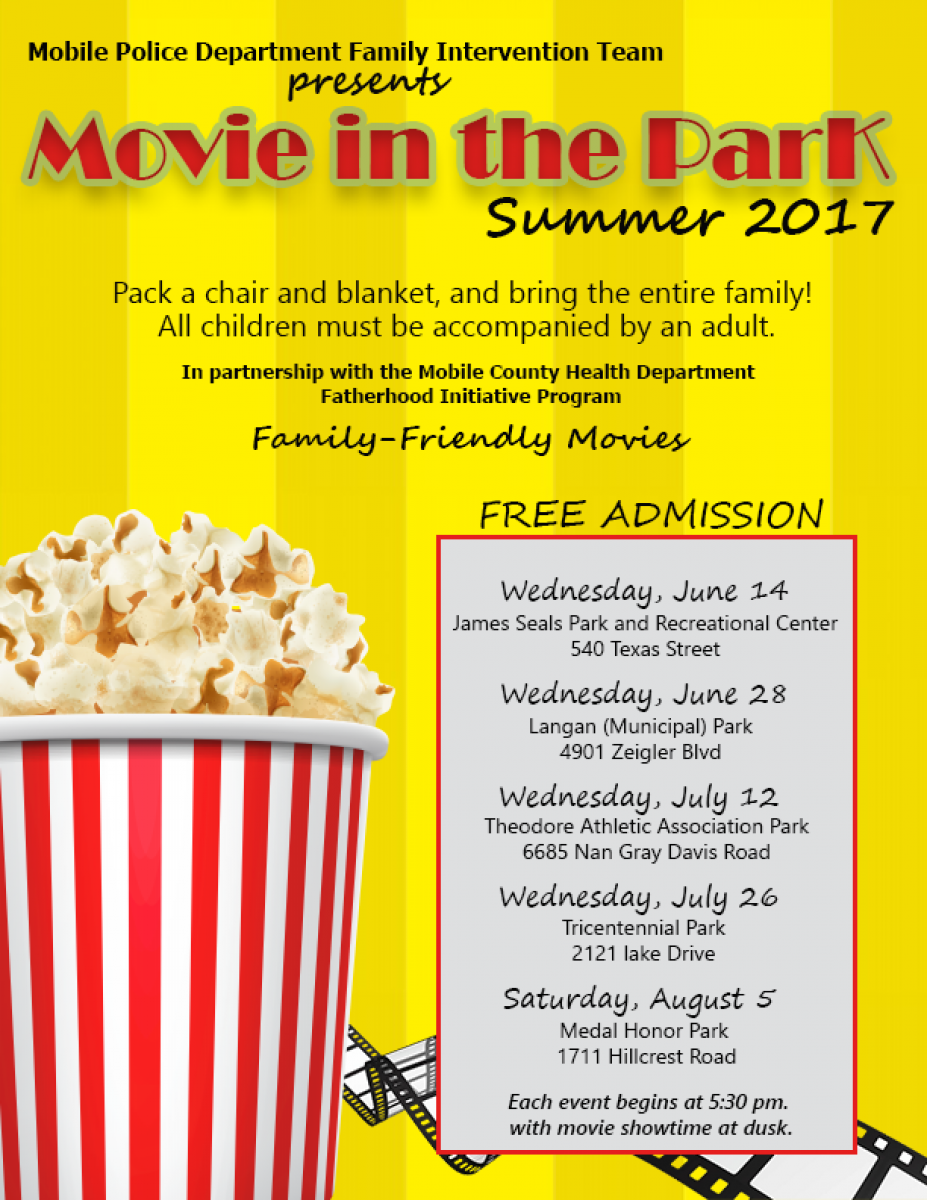 The entire family should come out and enjoy a movie in the park. Bring the lawn chairs and blankets to relax on during the outdoor cinema experience. Snacks will be provided for everyone. Before the movie begins, families can visit educational booths and participate in entertainment activities.
Strengthening the bonds of communication between law enforcement and the community is a mission of the Mobile Police Department under the leadership of Chief Lawrence Battiste. According to Curtis Graves, commander of the Office of Strategic Initiatives, Movie in the Park is a fun way the Mobile Police Department can build community relations and make positive first impressions with the youth.
This is a free event hosted by the Mobile Police Department's Family Intervention Team and the Gang Resistance Education and Training (G.R.E.A.T.) program facilitators and Mobile County Health Department Fatherhood Initiative Program.
All children must be accompanied by an adult.
The dates and locations for Movie in the Park are as follows.
Wednesday, June 14, 2017 at 5:30 p.m. – James Seals Park and Recreation Center, 540 Texas Street

Wednesday, June 28, 2017 at 5:30 p.m. – Langan (Municipal) Park, 4901 Zeigler Blvd

Wednesday, July 12, 2017 at 5:30 p.m. – Theodore Athletic Association Park, 6685 Nan Gray Davis Road

Wednesday, July 26, 2017 at 5:30 p.m. – Tricentennial Park, 2121 Lake Drive

Saturday, August 5, 2017 at 5:30 p.m. – Medal Honor Park, 1711 Hillcrest Road
Movie in the Park Activities Before Showtime
---
For inquiries contact MPD Public Affairs Office
Contact Phone #:
251-208-1918
Contact Email:
charlette.solis@cityofmobile.org
---
---
Back To News