---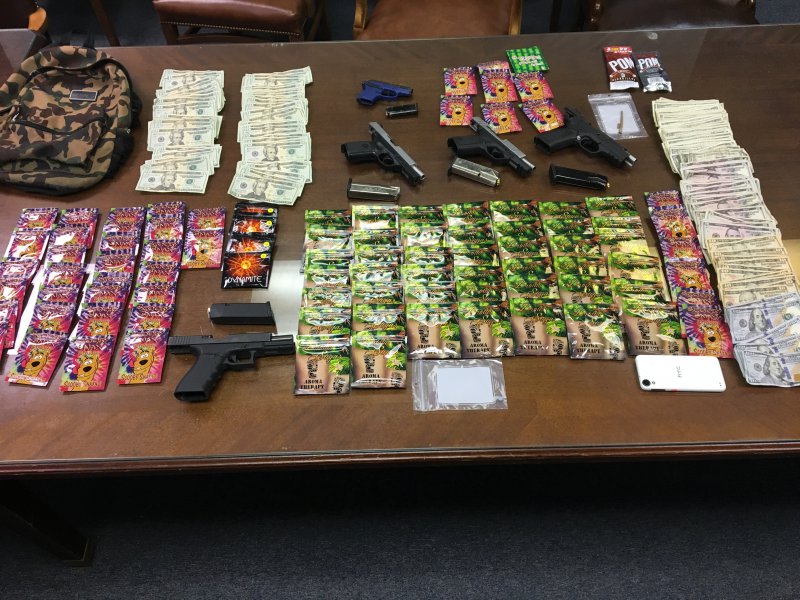 There is a resurgence of synthetic marijuana (aka "Spice" or "Mojo") in the Mobile area. The Mobile County Street Enforcement Narcotics Team (MCSENT) spotted the drug activity and conducted an investigation at several motels last night March 2. Four men and one woman were arrested.
MCSENT seized nearly 100 packs of spice and $2,408 cash. The officers also recovered a powerful 10mm Glock, which was recently stolen during a burglary in Prichard.
Joey Wilkerson, 35, is charged with trafficking in illegal drugs (spice), receiving stolen property second-degree, carrying a pistol without a permit, and chemical endangerment of a child. Wilkerson was carrying several dozen packs of spice and a stolen pistol in the car with his juvenile daughter.
Jermaine Brown, 34, has charges for attempting to elude police and reckless endangerment. Because Brown fled in his vehicle in an attempt to avoid apprehension by officers, he is also charged with resisting arrest.
Reginald Jenkins, 25, and 21-year-old Markese Wayne both face charges of possession of controlled substance (spice). Wayne has an additional charge of attempting to elude police.
Alexis Nobles, 20, is charged with trafficking in illegal drugs (spice) and possession of controlled substance (MDMA/Ecstasy).
---
For inquiries contact MPD Public Affairs Office
Contact Phone #:
251-208-1918
Contact Email:
charlette.solis@cityofmobile.org
---
Back To News