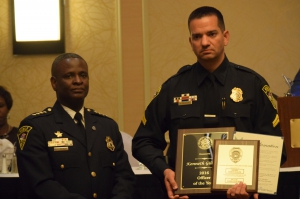 Mobile Police Department homicide investigator Corporal Kenneth Gillespie receives the Officer of the Year Award for 2016. Combined with remarkable investigative ability and strategic interviewing skills, Gillespie possesses high motivation to pursue criminals of violent crimes. For the year, he generated and completed 35 major case investigations.
Gillespie contributed significantly to the Homicide Unit's above average clearance rate of 73.17 percent, as compared to the 55.5 percent average clearance rate for cities of comparable size to Mobile. On every case, regardless if he was the lead investigator or not, Gillespie gave maximum effort to ensure the violent offenders were held responsible for their crimes.
His relentless efforts were crucial in solving the case that garnered widespread attention in the media and the community of a single mother being senselessly gunned down. On Oct. 18, 2016, Delauna Anderson Powell was shot and killed while travelling to work. She and her vehicle were located on eastbound Interstate 10 near Michigan Avenue. Detectives were able to determine that the actual incident occurred on the service road at Duval Street.
While canvassing the area detectives located surveillance cameras which captured two males wandering about the intersection and approaching the victim's vehicle as she stopped at the intersection. Then they were seen fleeing the location on foot.
Investigators interviewed numerous witnesses and possible suspects. But, on Nov. 29, 2016 a tip was received implicating Iseral Hall, 16, and Antonio Lang, 18, were involved in the homicide of Delauna Anderson Powell. Gillespie immediately organized resources to locate the suspects. During a lengthy interview, Hall and Lang confessed to being involved in the incident and were charged with capital murder.
Additionally, Gillespie took the lead to investigate the murder of 66-year-old Levester Brinnon, found shot in the area of South Scott Street and Palmetto Street on Nov. 2, 2016. Witnesses stated a male and female were seen entering a vehicle and leaving the scene. Gillespie learned that the victim's wallet was also missing.
When he retrieved the victim's bank records, he discovered that the victim's credit card had been used approximately 30 times after his death at numerous locations throughout the city. Based on surveillance video, Gillespie was able to identify the suspects as Demetrius Heade and Tilishia Tate.
On Nov. 11, 2016, Brinnon's vehicle was recovered in Gwinnett County, Georgia and had been involved in a homicide. Based on the investigation conducted by Gillespie, Gwinnett County investigators were able to quickly identify Heade and Tate as suspects in the homicide of 39-year-old Michael Harvey of Snellville, Georgia.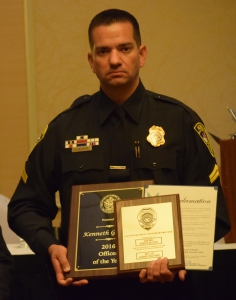 Tate was transported back to Mobile several days later and re-interviewed by Gillespie. She gave a full confession and implicated Heade as the one who shot and killed Brinnon. With Tate's statement, surveillance video, and witnesses' statements, Gillespie was able to obtain warrants for murder on both Tate and Heade.
Being an investigator in the Homicide Unit requires a commitment like no other. The unit is responsible for criminal and non-criminal homicide investigations while also working other death investigations such as suicides, accidental deaths, infant deaths, and natural deaths.
Constantly being on call, away from family when called back in to work, and the countless hours following up on investigations can be overwhelming. Yet Gillespie invests himself fully into every single investigation.
With a decade of law enforcement experience, Gillespie is commended for his dedicated service to the Homicide Unit and the victims and families affected by violent crimes. His successes as an investigator were recognized during the Annual Awards Banquet Thursday, May 11, 2017 at the Mobile Marriot Hotel.