---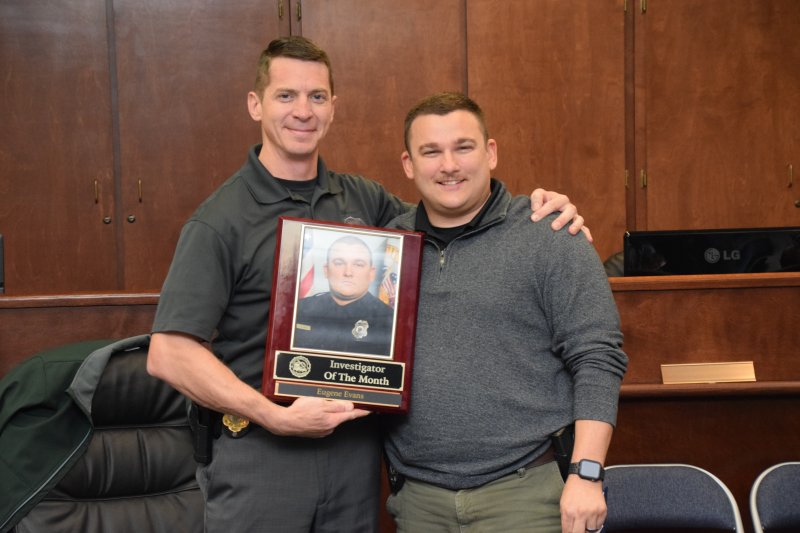 Commending police officers for a job well done is high priority at the Mobile Police Department. A new officer recognition program identifies investigators who have gone above and beyond in their detective work. The first investigator to receive the Investigator of the Month Award is Detective Eugene Evans, who works in the Assaults and Missing Persons Detail.
Evans is described by his superiors as a valued asset and leader with dedication to duty. Here are a few of the major cases that were solved by Evans.
On October 13, 2019, Evans was assigned to investigate an assault case that occurred at Shotgun Willie's located at 3211 Springhill Ave. The victim was inside the club when he was approached by an unknown man who stabbed him with a broken beer bottle in the neck and back. The victim was transported to the hospital with life-threatening injuries. Evans conducted a thorough investigation and was able to identify the suspect, who was the new boyfriend of the victim's ex-wife. Within days of the incident, Evans located the suspect, took him into custody, and obtained a confession in which he admitted to stabbing the victim out of jealousy.
On October 14, 2019, Evans investigated an assault that occurred at the 1400 block of Kellogg St. The victim was shot in the chest by unknown assailants. Through the course of the investigation, the victim and witnesses were uncooperative and refused to give any details about the shooting. This did not deter Evans who continued with the case and executed a search warrant on the residence in which he recovered six handguns, marijuana, and pills from the residence. One of the recovered handguns was also found to be stolen. While faced with adversity during the investigation, Evans persisted and was able to take six handguns and illegal narcotics from the streets of Mobile.
On October 26, 2019, Evans was assigned to investigate the shooting that occurred at the 6900 block of Old Pascagoula Road. The victim in the case was shot in the head at point blank range by an illegal immigrant from Honduras. Witnesses came forward and provided the name of the suspect along with a Facebook profile, but nothing further in regards to his identity. Based on this information alone Evans was unable to sign a warrant on the suspect. However, after working with ICE and other agencies in an attempt to gain information on the suspect, he was able to locate the suspect's brother who resided in Mobile. Evans then located the suspect's vehicle at the brother's residence and executed a search warrant on it. Inside he found the suspect's passport from Honduras which provided all the information needed to sign a warrant on the suspect.
Evans was honored with an award plaque and a $100 gift certificate provided by Briquettes Steakhouse.
He joined the Mobile Police Department in May 2013.
---
For inquiries contact MPD Public Affairs Office
Contact Phone #:
251-208-1918
Contact Email:
charlette.solis@cityofmobile.org
---
Back To News