Announcements

CrimeStoppers of Mobile Unveils Text-A-Tip Program
February 17, 2010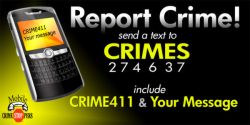 CrimeStoppers of Mobile, Mobile Mayor Sam Jones, and Mobile Police Department Interim Chief Lester Hargrove today announced the CRIME411 Program which allows citizens to anonymously text message crime information to CrimeStoppers.
Designed to reach the city's younger population, this new technology enables dispatchers to instantaneously communicate with tipsters in order to obtain detailed information which is then relayed to proper authorities. As with the traditional "call in" method, tipsters are assigned a code word used to protect their anonymity and they are eligible to receive up to $1,000 in reward funds.
In order to send a tip to CrimeStoppers via text message, the sender must text the keyword CRIME411 followed by their message to CRIMES (274637). The CRIME411 keyword assigns the tip to Mobile CrimeStoppers. Tips may also be submitted via the Web at www.crimestoppersofmobile.com or www.mobilepd.org; and, as always, via land line at 208-7000.

Citizens concerned with possible acts of terrorism are also encouraged to use this method of communication to relay pertinent information to police officers.

Crimes in progress should always be reported through 911.