ADMINISTRATIVE SERVICES SECTION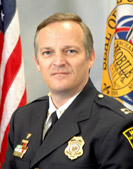 Captain Clay Godwin


Captain Clay Godwin, Commander of the Administrative Services Section, reports directly to the Chief of Police.
The Administrative Services Section is key in determining the allocation of resources and the focus of the Police Department through its Planning and Research Unit. All departmental policies flow from this unit, which is charged with forecasting trends and setting the department's strategic goals. In this respect, Planning and Research is the driving force of the Police Department, compiling valuable data that is deployed to better serve all the diverse neighborhoods of the City of Mobile. Every three years, the Planning and Research Unit undertakes the difficult task of amassing a wealth of data to attain national accreditation. It is a distinction that shows the department has complied with 459 standards governing policy procedures, management and operations and support services. The accrediting agency, the Commission on Accreditation for Law Enforcement Agencies, (CALEA) follows up with on-site inspections.
Planning and Research includes eight sub-units: Budgeting/Purchasing, Accreditation, License Compliance Officer, Payroll, Crime Analysis, Grant Administration, Fleet Coordinator and the Inspections Detail.
Police in the Community Services Section are problem-solvers. They work with the public to address specific neighborhood concerns about crime or blight. While crime prevention and community building are a primary objective for the unit, it also assists in enforcement efforts and has undertaken the responsibility of Department's Recruitment Unit as well as the Firearms and Range Unit.